Get the Appearance
You've Always Wanted
Are you considering plastic surgery but don't know where to start?
Cosmetic surgery horror stories abound. It's hard for patients to know which doctor to trust. Should you trust the doctor who has the most advertisements on the FM morning show? Or the doctor who has the expensive, full-page ad in the local glossy magazine? Or maybe the doctor whose billboards claim that he or she is the best in town?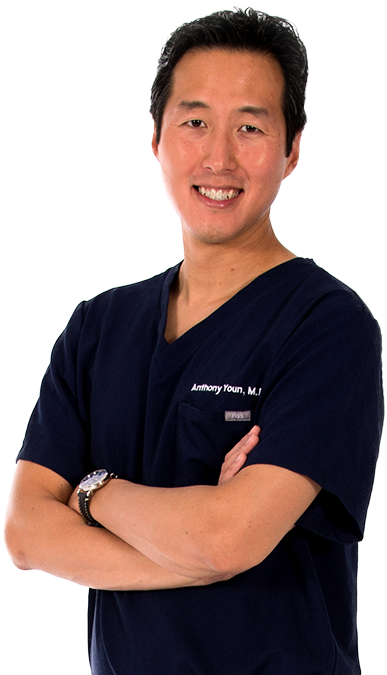 Let Me Introduce Myself
My name is Dr. Anthony Youn, and I'm a board-certified plastic surgeon who is a member of the American Society of Plastic Surgeons and American Society for Aesthetic Plastic Surgery. I've been named one of the top plastic surgeons in the country by U.S. News and World Report, Harper's Bazaar, and Castle Connolly, to name a few. You may have read one of my best-selling books or watched me on a national television program, like "Rachael Ray" or "The Doctors".
Well, I'm here to tell you that none of that matters. What really matters is that you can trust me to give you honest, informative advice for what's best for you. It's all about what is in your best interests.
You see, as of this writing, my wait list for a face-to-face consultation is over a year long. Because of this, I'm different from many other plastic and cosmetic surgeons in that I don't need to convince you to pick me to be your doctor. Now, I don't want you to take this the wrong way. Although I consider it an honor and a privilege when a patient chooses me to be his or her plastic surgeon, my goal is to do whatever is best for you. Sometimes that's to inform you that surgery isn't your best option. Other times it's a recommendation to another doctor who may perform the surgery better or more often than me. And sometimes I just may be the doctor you're looking for.
What is an Online Pre-Consultation?
This online pre-consultation will give you all the information and tools you need to make the right decision for yourself, in the comfort of your own home, whether plastic surgery is right for you and, if so, whether I'm the right plastic surgeon for you. And, best of all, you don't have to wait over a year to obtain this knowledge.
This pre-consultation is filled with hours of video footage where I address the cause and solution for your cosmetic issues. Do you dislike the puffiness under your eyes? Do you hate the sagging skin of your neck? Or maybe you'd like larger, fuller breasts? Or has having children left your tummy with a large amount of loose, sagging skin?
In this online pre-consultation, I address each problem head-on, giving you the details of the surgical treatments for each issue you have. I describe in depth the surgery, the risks, and the recovery involved, using diagrams, before-and-after photos, and language that anyone can understand. And if, at the end of the online pre-consultation, you've decided that you'd like to proceed to an in-person, face-to-face consultation, you will be given the information on how to schedule that.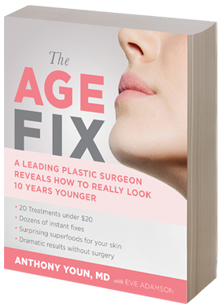 As part of your online consultation package, we will send you a hardcover copy of Dr. Youn's best-selling book, The Age Fix, and a DVD of his hit public television special, The Age Fix with Dr. Anthony Youn, which includes bonus footage that you can't access anywhere else.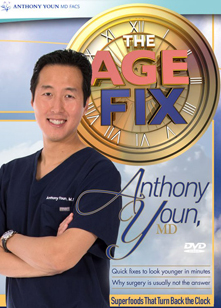 In addition to this online pre-consultation, which contains over 75 informative videos, you will be sent a hardcover copy of my best-selling book, The Age Fix: A Leading Plastic Surgeon Reveals How To Really Look Ten Years Younger. This is a complete guide to turning back the clock and getting the look you've always wanted.
You'll also receive a DVD copy of my recent public television special, The Age Fix with Dr. Anthony Youn, where I break down the best superfoods to turn back the clock and the most effective products for your skin. It also includes never-before-seen video footage where I answer my most frequently asked plastic surgery questions.
The book and the DVD will be mailed to your home as part of your online pre-consultation. Alternatively, if you do not want them mailed to your home, you can have them sent directly to our office, where we will hold onto them until you get a chance to pick them up.
If you are considering plastic surgery, if you're interested in getting the look you've always wanted or turning back that darn clock, then this online pre-consultation is where you should start.
Please Note:
Although I perform a wide variety of plastic surgery procedures, there are certain procedures I do not perform. I do not go over these procedures in the online pre-consultation, so if you are interested in one or more of them, then I am likely not the right plastic surgeon for you. You can email us at [email protected] for a referral to a plastic surgeon in your area who we can refer you to.
Rhinoplasty
Festoon treatments
Lower body lifts
Back lifts
Buttock enhancement with implants
Labiaplasty and all plastic surgery of the private parts
Cosmetic surgery of the hands and feet
Thigh lifts
Calf implants
Male pectoral implants
Hair transplants
Reconstructive surgery
If you would prefer not to go through the online pre-consultation, then I highly recommend making a consultation appointment with my associate, Dr. DeLuca-Pytell. She also performs certain procedures I do not, including lower body lifts, labiaplasty, thigh lifts, hand rejuvenation, and certain reconstructive surgeries. She also accepts new insurance patients. You can learn more about her by clicking HERE.
Note: The online consultation does not take the place of an in-person, in-office consultation.  It is the first step towards that.  Currently, a face-to-face, in-office consultation costs $400, which is applied to your surgeon's fees should you decide to have surgery.  The $97 pre-consultation fee is not deducted from the surgeon's fees, however, and is non-refundable.
Thank you so much for watching this video and considering choosing me to be your plastic surgeon. It's an honor and a privilege that I don't take lightly. If you'd like to proceed with the online pre-consultation followed up by possibly the face-to-face consultation, then please click the button below to get started.
NOTE: If you have already purchased the online pre-consultation, then please click HERE to go to the consultation site at www.dryounonline.com/wp-admin and enter your login ID and password to get started.