CBD 101: What It Is, How It Works, and How to Use It with Dr. Mary Clifton
(Episode 142): CBD 101: What It Is, How It Works, and How to Use It with Dr. Mary Clifton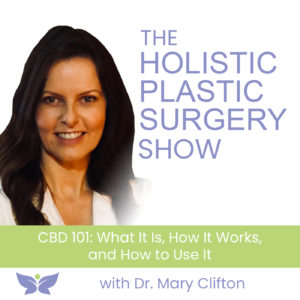 CBD is one of the most trending topics in holistic health today. Many alternative and mainstream practitioners are recommending it for a variety of uses, such as reducing pain, lessening anxiety, and improving sleep. But exactly what is CBD and how does it work?
On this episode of The Holistic Plastic Surgery Show, I'm joined by an expert in using CBD and cannabis to improve your health. We'll discuss the differences between CBD, THC, and cannabis, how CBD works and what effects it has, the legalities surrounding its use, and the various ways you can use CBD to impact your health in positive ways.
If you've ever wondered whether CBD might be an option for you or someone you love, then this episode is definitely worth a listen.
Join me and Dr. Mary Clifton as we present CBD 101: What It Is, How It Works, and How to Use It.
---
Subscribe with Stitcher
Links From This Episode