Cosmetic Scams – What to Avoid and What to Do Instead with Dr. Christian Subbio
(Episode 167): Cosmetic Scams – What to Avoid and What to Do Instead with Dr. Christian Subbio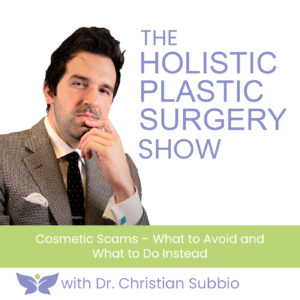 Today's hot new cosmetic treatment is often tomorrow's abandoned option. There are so many trending treatments that come and go in cosmetic medicine, it's hard for consumers and patients to know what is best for them.
On this episode of The Holistic Plastic Surgery Show, I'm joined by one of the country's most outspoken and reputable plastic surgeons. He's going to give us what he considers to be the five worst cosmetic treatments and explain why these trendy options being sold by thousands of doctors around the country just don't cut it. And I'll give you a quick hint: he and I don't necessarily agree on all of them. He will also give us the two treatment options that he swears by as being worth your money.
It's an eye-opening episode that gets to the truth about plastic surgery.
Join me and board-certified plastic surgeon Dr. Christian Subbio as we reveal Cosmetic Scams – What to Avoid and What to Do Instead.
---
Subscribe with Stitcher
Links From This Episode