Cutting Edge Non-Invasive Treatments to Tighten This, Lift That, and Even Get a Six Pack with Dr. Jennifer Walden
(Episode 178): Cutting Edge Non-Invasive Treatments to Tighten This, Lift That, and Even Get a Six Pack with Dr. Jennifer Walden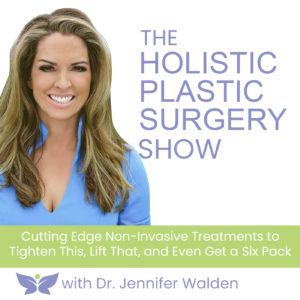 Non-invasive cosmetic treatments are exploding in popularity.  It seems every week there is a new device that offers a more effective way to tighten this, lift that, and even give you bigger muscles.  On this episode of The Holistic Plastic Surgery Show, we're going to introduce you to the newest technology in cosmetic medicine.  Have you heard of Geneveve, Votiva, Emsella, or the Big D Wave? No? Most plastic surgeons haven't either!
These are just some of the newest, non-invasive cosmetic treatments being offered by my guest this week.  You'll learn how you can tighten "down under" in more ways than one, reduce stress urinary incontinence without even taking your pants off, enhance your abdominal muscles without doing a single sit-up, and even painlessly improve erectile dysfunction.  We cover a lot of really cool plastic surgery "toys" on this episode, so it's truly a must-listen.
Join me and my good friend, board-certified plastic surgeon Dr. Jennifer Walden, as we reveal Cutting Edge Non-Invasive Treatments To Tighten This, Lift That, and Even Get a Six Pack.
---
Subscribe with Stitcher
Links From This Episode