EMF's, 5G, and the Effects of Your Cellphone on Your Health with Dr. Joe Mercola
(Episode 177): EMF's, 5G, and the Effects of Your Cellphone on Your Health with Dr. Joe Mercola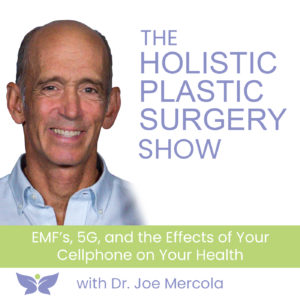 Are cellphones the cigarettes of the 21st century?
My guest this week believes they are. EMF stands for Electromagnetic Frequencies, and we are being exposed to a greater amount of EMF's than ever before. So what can these exposures do to our health?
Studies show that excess amounts of EMF's can cause a myriad of symptoms, including headaches, fatigue, brain fog, and even the early onset of cancer. So why aren't we more worried about them, especially with the upcoming arrival of 5G and even greater exposures?
My guest, Dr. Joe Mercola, has written a new book about the dangers of EMF called EMF'd. In this episode of The Holistic Plastic Surgery Show, he explains the risks of excess EMF exposures, why these risks are being withheld from the public, and simple steps you can take to mitigate these risks and keep you and your families healthy and safe.
Join me and Dr. Joe Mercola as we discuss EMF's, 5G, and the Effects of Your Cellphone on Your Health.
---
Subscribe with Stitcher
Links From This Episode