Exposing the Underbelly of Plastic Surgery with Dr. Adam Rubinstein
(Episode 148): Exposing the Underbelly of Plastic Surgery with Dr. Adam Rubinstein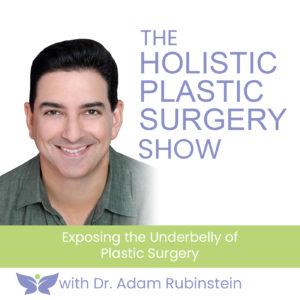 Illegal silicone buttock injections performed in hotel rooms. Cosmetic clinics owned by ex-felons. Doctors masquerading as plastic surgeons. Physicians performing procedures way outside their expertise…with disastrous consequences.
There is an underbelly of plastic surgery that is quite ugly and dangerous. It seems every week there is a new tragic story of someone dying from a cosmetic procedure. So what's going on, and how can you prevent yourself from getting botched?
On this episode of the Holistic Plastic Surgery Show, I'm joined by one of the nation's leading plastic surgeons who is working to uncover the truth about unscrupulous doctors and clinics. His Instagram profile, @plasticsurgerytruths, has become the go-to source of revealing the salacious truth about some of the most prominent cosmetic doctors. It's gotten him harassed, threatened and even sued.
Join me and my good friend, board-certified plastic surgeon Dr. Adam Rubinstein, as we expose the Underbelly of Plastic Surgery.
---
Subscribe with Stitcher
Links From This Episode