Holistic Pelvic Health – How to Deal with the Changes that Happen "Down There" with Dr. Betsy Greenleaf
(Episode 235): Holistic Pelvic Health – How to Deal with the Changes that Happen "Down There" with Dr. Betsy Greenleaf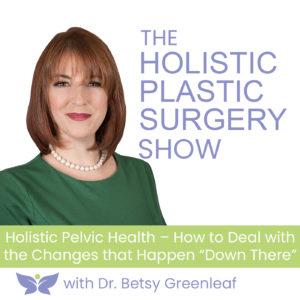 Menopause and perimenopause bring with them major changes to the pelvic region, specifically to the vagina.  The vaginal walls can thin and atrophy, making intercourse difficult and even painful.  There is also an increase in recurrent vaginitis and urinary tract infections. So what causes these changes to occur, and what can you do about them or even prevent them from becoming a problem?
On this episode of The Holistic Plastic Surgery Show, I'm joined by the nation's first female board certified urogynecologist.  She'll give us the latest information on holistic health of the pelvic region, including why changes in pH and bacteria inside the vagina can create major impacts. We'll discuss why she doesn't recommend estrogen pills, which topical products she does recommend, and she'll give us the straight scoop on vaginal rejuvenation lasers. Are they really all that?
This is a discussion that all women, whether pre-, peri-, or post-menopause, should hear.
Join me and board-certified gynecologist Dr. Betsy Greenleaf as we cover Holistic Pelvic Health – How to Deal with the Changes that Happen "Down There."
---
Subscribe with Stitcher