Hot Topics in Plastic Surgery and Cosmetic Treatments with Dr. Matthew Schulman
(Episode 141): Hot Topics in Plastic Surgery and Cosmetic Treatments with Dr. Matthew Schulman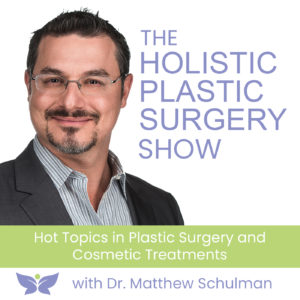 Plastic surgery is a rapidly changing field, so what was yesterday's darling new treatment could be today's old news. That's why it's important for plastic surgeons to attend meetings like the annual Aesthetic Meeting. This is where the top plastic surgeons and cosmetic companies get together every year to teach, learn, and reveal the newest treatments, technologies and techniques. This week's episode was recorded there.
I'm joined by Dr. Matthew Schulman, one of New York City's top cosmetic plastic surgeons. Like me, he has his finger on the pulse of today's cosmetic medicine trends. We'll discuss today's hot button topics, including the newest alternative to Botox nicknamed Newtox, the latest non-invasive options to reduce fat AND get a six pack, how to have a safe buttock enhancement (BBL), how to avoid getting cancer from breast implants, and much more.
It's a revealing, timely discussion that anyone interested in cosmetic treatments should hear.
Join me and my good friend Dr. Matthew Schulman as we discuss Hot Topics in Plastic Surgery and Cosmetic Treatments.
---
Subscribe with Stitcher
Links From This Episode