How Functional Medicine Can Help Optimize Your Hormones with Dr. Stephanie Gray
(Episode 228): How Functional Medicine Can Help Optimize Your Hormones with Dr. Stephanie Gray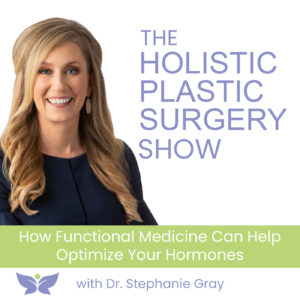 What's the difference between functional medicine and conventional medicine?
While conventional medicine focuses on interventions, such as medications and surgery, to tackle acute and chronic medical issues, functional medicine is focused on finding the underlying root causes of illness. A relatively new field that is practiced by physicians, nurse practitioners, chiropractors, naturopaths, and others, functional medicine often combines dietary and lifestyle changes to enact profound improvements in health.
So how can functional medicine help you optimize your hormones? 
On this episode of The Holistic Plastic Surgery Show, I'm joined by the author of Your Longevity Blueprint, a guide to optimal health, specifically hormone health, which focuses on the principles of functional medicine. She shares with us simple tips to naturally optimize hormones, the difference between how your body reacts to natural vs. synthetic hormones, top nutrients to boost estrogen metabolism, and a whole lot more.
Join me and Dr. Stephanie Gray as we reveal How Functional Medicine Can Help Optimize Your Hormones.
---
Subscribe with Stitcher
Links From This Episode