How to Prevent Breast Cancer Naturally with Dr. Veronique Desaulniers
(Episode 147): How to Prevent Breast Cancer Naturally with Dr. Veronique Desaulniers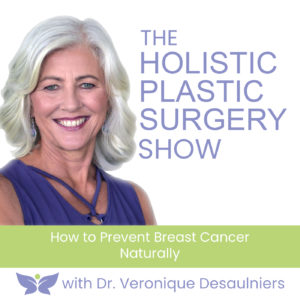 Breast cancer is the number one most common cancer (other than skin cancer) in women in the United States. Approximately 1 in 9 women will be diagnosed with breast cancer in their lifetime. And it seems that women are being diagnosed at an earlier and earlier age.
Although the development of breast cancer can have certain strong genetic components, you have more control over your chances of whether you will develop breast cancer, and how advanced the cancer is if you do develop it, than many people realize. And my guest this week can show you how to reduce your risk of breast cancer and diagnose it at an earlier stage than previously thought possible.
So on this episode of the Holistic Plastic Surgery Show, we're going to do a deep dive into holistic options for breast cancer prevention and early detection, and reveal how you can use the concept of epigenetics to control your destiny.
Join me and Dr. Veronique Desaulniers as we reveal How to Prevent Breast Cancer Naturally.
---
Subscribe with Stitcher
Links From This Episode