How to Successfully Navigate Our Children's Mental Health Through a Pandemic with Dr. Roseann Capanna Hodge
(Episode 214): How to Successfully Navigate Our Children's Mental Health Through a Pandemic with Dr. Roseann Capanna Hodge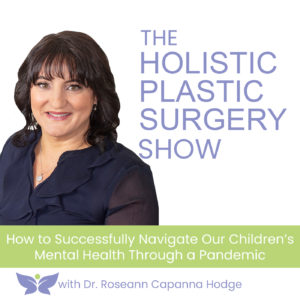 With so much attention being paid to our physical health during this pandemic, are we neglecting our mental health? Specifically, the mental health of our children?
Kids today are facing an unprecedented amount of isolation, where for some the only interaction they have with people outside their families is through a video screen. So how do we know if they are doing OK mentally?
On this episode of the Holistic Plastic Surgery Show, I'm joined by one of the country's leading experts in children's mental health.  We reveal some of the hidden signs of anxiety and stress that our children may exhibit, discuss practical solutions and tools to improve their mental health, and answer the question of when should you seek a therapist.
This is an episode that can benefit all parents in today's difficult and stressful environment.
Join me and Dr. Roseann Capana Hodge as we reveal How to Successfully Navigate Our Children's Mental Health Through a Pandemic.
---
Subscribe with Stitcher
Links From This Episode