Lasers 101: How to Pick the Right Treatment for You with Dr. Anthony Youn
(Episode 166): Lasers 101: How to Pick the Right Treatment for You with Dr. Anthony Youn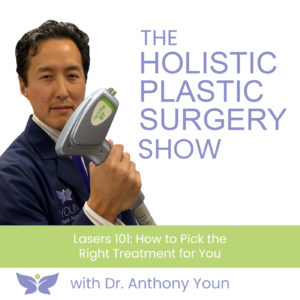 The term "laser" is a buzzword in plastic surgery and medicine in general. Many doctors are promoting the use of lasers as better options than other, more traditional therapies. And they charge you a lot more for it as well. But are all laser treatments worth spending the extra money on? And if so, which ones?
On this episode of The Holistic Plastic Surgery Show, I'm going to teach you everything you need to know about cosmetic laser treatments to make you an informed consumer.  We'll go over how they work, the economics of laser treatments, and which lasers I recommend and which ones I encourage you to stay away from. If you've ever considered laser treatments to rejuvenate your skin, remove your hair, get rid of tattoos, lighten dark spots, and more, then I'm giving you the information that you absolutely must know.
Join me as I discuss Lasers 101: How to Pick the Right Treatment for You.
---
Subscribe with Stitcher
Links From This Episode