Muscle Medicine: How to Optimize Your Workouts Over the Years with Dr. Emily Kiberd
(Episode 137): Muscle Medicine: How to Optimize Your Workouts Over the Years with Dr. Emily Kiberd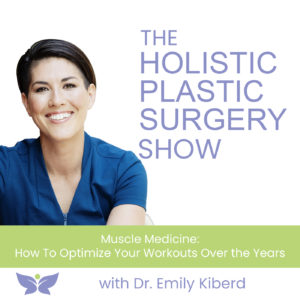 HIIT. Cross Training. Marathon running. Tri Training. Good, old-fashioned aerobics.
As we get older, how do we know that how we're exercising is optimal for our bodies? In the 80's it was all about aerobics classes. Today, more and more people are talking about short, high intensity interval workouts. But what is best for you?
In this episode of The Holistic Plastic Surgery Show, I'm joined by one of New York's most sought-after chiropractors who is revolutionizing a wellness trend called "Muscle Medicine." She's worked with some of the top athletes and celebrities and knows what works, what doesn't, and what's all hype.
We'll discuss what type of exercise you absolutely must do as you get older and which types of workouts are just spinning your wheels. It's a frank discussion with someone I really think you should get to know.
Join me and Dr. Emily Kiberd as we discuss Muscle Medicine: How to Optimize Your Workouts Over the Years.
---
Subscribe with Stitcher
Links From This Episode