National Plastic Surgery Trends and Controversies with Carolyn Hsu
(Episode 170): National Plastic Surgery Trends and Controversies with Carolyn Hsu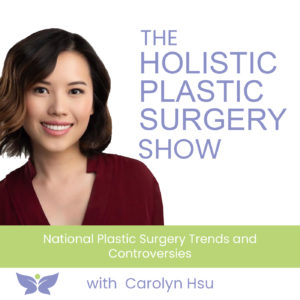 Plastic surgery is a rapidly changing field. Today's popular cosmetic treatment could be tomorrow's afterthought. So what's trending in the field today, and what appears to be on its way downhill?
On this episode of The Holistic Plastic Surgery Show, I'm joined by the head of content at Realself.com, the most popular cosmetic surgery website in the country. We're going to break down what's hot and what's not, and reveal why these treatments may or may not be worth your money.  We'll discuss such treatments as Jeuveau, microblading, fractional lasers, microneedling, mini facelifts, breast implants and breast implant illness, and more.
If you're interested in putting your finger on the pulse of plastic surgery and cosmetic treatments, this episode is for you.
Join me and beauty editor and expert Carolyn Hsu as we reveal National Plastic Surgery Trends and Controversies.
---
Subscribe with Stitcher
Links From This Episode