One Doctor's Long Hauler Experience with COVID-19 with Dr. Jolene Brighten
(Episode 207): One Doctor's Long Hauler Experience with COVID-19 with Dr. Jolene Brighten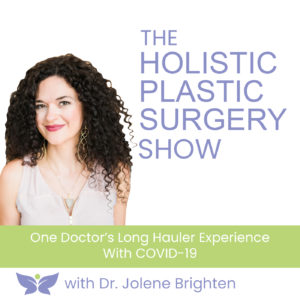 The pandemic has been with us for more than six months. It seems that everyone has a different belief of how COVID affects people and whether it's truly something to be concerned about.
On this podcast, I'm joined by one of the country's most prominent naturopathic doctors. Previously healthy and vibrant, she was diagnosed with COVID-19 in March. As a young physician with no risk factors, she'd be expected to sail right through her illness, right? Wrong!
On this episode, we discuss what might be the most important fact about COVID-19 that everyone must be aware of: the symptoms and health problems from being infected can last for months. The stories of these "Long Haulers" must be told, because the novel Coronavirus affects everyone differently. Her story is frightening, true, and a cautionary tale for all of us.
Join me and my good friend, Dr. Jolene Brighten, as we reveal One Doctor's Long Hauler Experience With COVID-19.
---
Subscribe with Stitcher
Links From This Episode