State-of-the-Art Treatments for Thinning Hair with Dr. Alan Bauman
(Episode 218): State-of-the-Art Treatments for Thinning Hair with Dr. Alan Bauman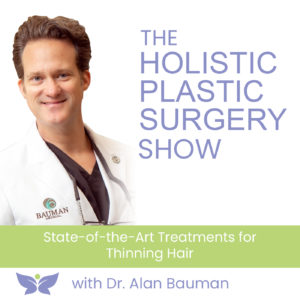 Thinning hair affects millions of Americans, both men and women.  Rogaine, Propecia, hair transplants, PRP, laser treatments – there are so many options to treat thinning hair, but how do you pick which one to do?
On this episode of the Holistic Plastic Surgery Show, I'm joined by the nation's top expert in treating thinning hair.  He's made it his life mission to help millions of people to get the luscious locks they've always wanted.  We discuss a wide variety of topics, ranging from the effects of stress reduction and nutritional supplements on thinning hair, how to get the best results from PRP treatments, when hair transplant is your best option, where stem cells fit into all of this, and a whole lot more.
If you or someone you love is dealing with unwanted thinning hair and you're looking for real solutions without the BS, then this episode is for you.
Join me and Dr. Alan Bauman as we discuss State-of-the-Art Treatments for Thinning Hair.
---
Subscribe with Stitcher
Links From This Episode