The Latest Treatments in Non-Invasive Vaginal Rejuvenation with Dr. Christine Hamori
(Episode 146): The Latest Treatments in Non-Invasive Vaginal Rejuvenation with Dr. Christine Hamori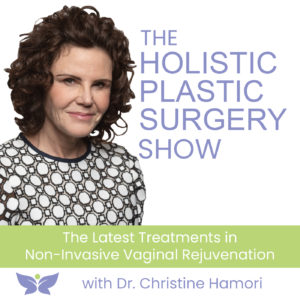 Did you know that there are a plethora of non-invasive and minimally invasive treatments to improve how things look, feel, and function down under?
Rejuvenation of the private parts, otherwise known as vaginal rejuvenation, is the fastest growing segment of cosmetic surgery today. These procedures are super effective to enhance a woman's sexual experience, improve the appearance of the area, and even non-invasively reduce bladder leakage and urinary incontinence! But how is a woman to know which of the many options are the best for her?
On this episode of The Holistic Plastic Surgery Show, I'm joined by the country's top expert in vaginal rejuvenation. She's going to tell you all about the newest options, including the labial puff, scarless labiaplasty, Viveve, Votiva, ThermiVa, the OShot, and more. And she's going to reveal a simple, take home device where you can get these results in the comfort and privacy of your own home. I hadn't heard about this one until she told me!
Join me and Dr. Christine Hamori as we reveal The Latest Treatments in Non-Invasive Vaginal Rejuvenation.
---
Subscribe with Stitcher
Links From This Episode