The Ultimate Anti-Aging Skin Care Routine with Dr. Anthony Youn
(Episode 176): The Ultimate Anti-Aging Skin Care Routine with Dr. Anthony Youn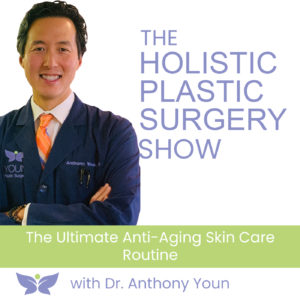 Essences. Masks. Copper. Retinol. Vitamin C. Today there are more categories of skin care products and important ingredients in these products than anyone can learn and master. If you're like the vast majority of women and men in the United States, the sheer number of different kinds and brands of skin care products on the shelves leaves you confused. Which of the hundreds of different products sitting on shelves in front of you do you actually buy?
Well, rest assured.  You're not alone.  Most plastic surgeons and even dermatologists get confused, too.  It's not easy to keep up with all the trends and new products in skin care today. 
On today's episode of The Holistic Plastic Surgery Show, we're going to get to the bottom of skin care.  I'll reveal what skin care products you need, which may be considered a helpful splurge, and which ones you can definitely avoid.  And, I'm going to give you what I consider the Ultimate Anti-Aging Skin Care Routine. 
And, if you listen to the end of the episode, I'll have a special gift for you.  Tune in for a skin care routine that will change your skin for good!
---
Subscribe with Stitcher
Links From This Episode