What are the Best At-Home Cosmetic Treatments? with New York City Beauty Editor Jamie Rosen
(Episode 150): What are the Best At-Home Cosmetic Treatments? with New York City Beauty Editor Jamie Rosen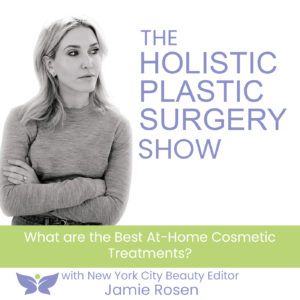 What are your best options if you don't have access to, or can't afford to see, a plastic surgeon or dermatologist?
On this episode of The Holistic Plastic Surgery Show, I'm joined by one of New York City's premiere beauty magazine editors, and we are going to answer this question and many more. There are a plethora of at-home beauty treatments available. But which ones work, and which are a waste of your money? My guest this week has tested all of them, and she's going to give us the straight scoop.
So if you're wondering about the latest in microcurrent facials, at-home dermaplaning, red light therapy, blue light therapy for acne, body brushing, jade rollers, and more, then we have some great information for you.
Join me and my good friend, Jamie Rosen, as we answer the question: What are the Best At-Home Cosmetic Treatments.
---
Subscribe with Stitcher
Links From This Episode