What to Eat to Look Younger with Dr. Marissa Tenenbaum
(Episode 130): What to Eat to Look Younger with Dr. Marissa Tenenbaum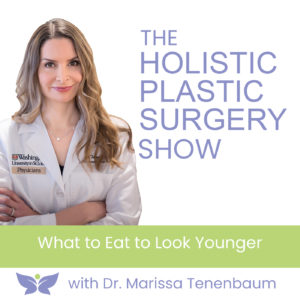 What you eat determines how quickly you age.
You've heard me say it many times. The quality of the food on your plate has a huge impact on the quality of your skin. And now studies are showing a true gut-skin connection, where the health of one shows up in the other.
So which foods should you eat to look younger? And which foods should you avoid?
On this episode I'm joined by one of the nation's premiere board-certified plastic surgeons who also happens to have a background in nutrition. She's going to share with us which diet she believes is the best for slowing down aging and improving your overall health, the best and worst foods for your skin, her thoughts on dairy, gluten, and collagen supplements, and much more.
If you're interested in holistic plastic surgery, then this episode is for you.
Join me and board-certified plastic surgeon Dr. Marissa Tenenbaum as we reveal What to Eat to Look Younger.
---
Subscribe with Stitcher
Links From This Episode