Women's Hormones 101: How to Feel Your Best…All The Time with Dr. Shawn Tassone
(Episode 156): Women's Hormones 101: How to Feel Your Best…All The Time with Dr. Shawn Tassone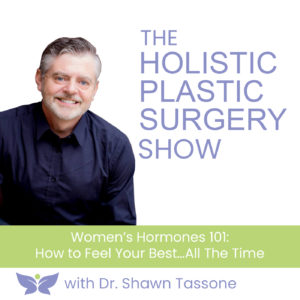 Women's hormones are a very complex topic. Although they impact your sleep, your body shape, your energy levels, and even how your brain functions, traditional medicine hasn't always been the best at helping women to balance their hormones effectively.
Have you been told by a doctor that your hormone levels are fine, even though you decidedly don't feel fine?  You may wonder why it is over the last several years you've gained weight even though your lifestyle and diet haven't changed?  Or maybe you're lying awake at night, even though you've never had problems sleeping before?
On today's episode of the Holistic Plastic Surgery Show, I'm joined by my great friend and America's Holistic Gynecologist Dr. Shawn Tassone. He's going to help us get to the bottom of whether hormones might be an issue for you and what you can do about it. He's also going to share with us a simple quiz that you can take online that will help diagnose your hormone imbalance in mere minutes.
Join me and board-certified gynecologist Dr. Shawn Tassone as we discuss Women's Hormones 101: How to Feel Your Best…All the Time.
---
Subscribe with Stitcher
Links From This Episode