"Would You Rather:" Functional vs. Traditional Medicine Edition with Dr. Jerry Bailey
(Episode 249): "Would You Rather:" Functional vs. Traditional Medicine Edition with Dr. Jerry Bailey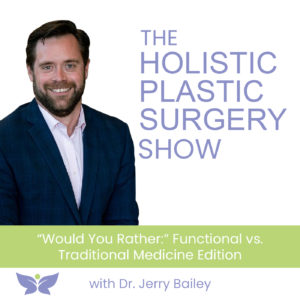 Functional medicine doctors think differently than traditional medical doctors. With this in mind, I thought it would be fun and educational to play a game of "Would You Rather" with my good friend and functional medicine doctor Dr. Jerry Bailey. We switch off between asking each other thought provoking, and sometimes embarrassing, questions.
Cardio or weight lifting? Acupuncture facelift or threadlift? Energy healing or essential oils?
It's a game where the winner is you, since you will get great information and even some laughs.
Join me and my good friend Dr. Jerry Bailey as we play "Would You Rather," doctor edition.
---
Subscribe with Stitcher
Links From This Episode