The One Test Everyone Needs To Take
Posted on: Jan 31 2018
By: editor
Heart disease is the leading cause of death in the United States, killing over 600,000 people every year. Unfortunately, many people have heart attacks without even knowing they have coronary artery disease. So how do you find out whether you or someone you love is at risk?
I am obviously not a cardiologist, but my good friend, Dr. Joel Kahn (America's Healthy Heart Doc) recommends adults who are concerned about coronary artery disease to obtain a coronary artery calcium score. So what is this?
From Dr. Kahn: It is a simple CT of the heart performed without injection of any materials that permits the easy identification of calcification (plaque) in the three heart arteries. Calcium comprises about 20 percent of plaque in arteries but is such a different density than the rest of the heart that even small amounts show up like a beacon of illness without exercise, IV placement, or sedation. A software program permits a score, called the Agatson score, to be calculated with zero being the best result and numbers in the tens, hundreds and even thousands indicating increasing burdens of calcified heart artery plaque.
This is a simple study that costs as little as $125 and takes 5 to 10 minutes. I had it done several weeks ago and… drumroll please! My score was zero.
So if you are concerned about having heart disease, then ask your doctor about a coronary artery calcium score (also called a Calcium Scoring Cardiac CT Without Contrast). It could help save your life or the life of someone you love.
If you are interested in learning more about Dr. Kahn, his new book "The Plant Based Solution," and how to use a plant-based diet to prevent and reverse heart disease, cancer, and more, please scroll down!
---
Here are the latest episodes of my new podcast, The Holistic Plastic Surgery Show. Please SUBSCRIBE so you don't miss a single information-packed show!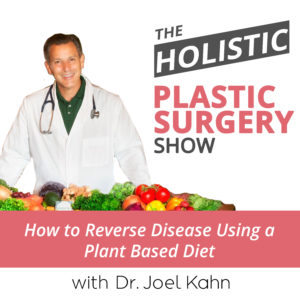 Episode #69– How to Reverse Disease Using a Plant Based Diet with Dr. Joel Kahn– Did you know that a plant-based diet can reduce and even reverse some of the world's most deadly diseases? Studies show that going vegan or vegetarian can reverse heart disease, improve diabetes, lower your blood pressure, and even reduce the risk of cancer! So what are the studies supporting this, and why isn't your doctor recommending this to you?
In this episode, I get to the heart of the matter.
Listen HERE with Apple devices or HERE with Android phones.
---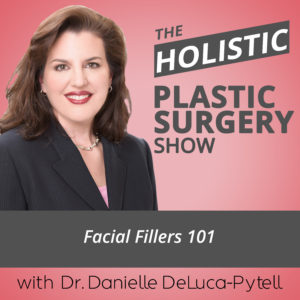 Episode #68 – Facial Fillers 101 with Dr. Danielle DeLuca-Pytell– Juvaderm. Restylane. Sculptra. Facial fillers like these are the second most popular cosmetic treatment in the United States. Do you want plumper lips, fuller cheeks, smoother wrinkles, and youthful temples? If so, then these minimally invasive treatments just might be your easiest and best options.
On this episode I'm joined by Dr. DeLuca-Pytell to reveal the basics of facial fillers and exactly what they can do to turn back the clock and give you the appearance you want. We reveal which fillers are the best for each area of the face, how you can avoid the "done" look, and much more.
Listen HERE on Apple devices or HERE on Android.
Posted in: Plastic Surgery News