Probiotics, the microbiome, and your skin. And the jack-of-all-trades surgeon?
Posted on: Apr 25 2018
By: editor
I once worked with a plastic surgeon, let's call him Dr. Saul, who performed cleft lip and palate repairs, face-lifts, breast reconstruction after mastectomy, and even complex repairs of tendons in the hands and fingers. His practice wasn't very busy, so he performed some of these procedures only once every few months. While the breadth of Saul's practice was impressive, I couldn't get over the question: How many different types of procedures can you trust one doctor to perform?
As a board-certified plastic surgeon like Dr. Saul, I'm fully trained in cosmetic surgery, hand surgery, burn surgery, cleft lip and palate surgery, reconstructive surgery, and microsurgery. But if your child has a cleft lip or your finger has been cut off, you probably don't want me as your doctor.
I'm not a jack-of-all-trades surgeon.
And studies show you don't want one.
A recent study out of Tulane University looked at adrenalectomy surgery. Researchers separated surgeons into low-volume (one or less procedures per year), intermediate-volume (two to five per year), and high-volume (more than five per year) categories. The patients of low-volume surgeons were nearly twice as likely to develop a complication as patients of high-volume surgeons.
The critically acclaimed author and surgeon Dr. Atul Gawande wrote about this subject in his best-selling book "Complications." Gawande visited Shouldice Hospital, well-known for having the lowest recurrence rates for hernia surgery in North America. He found that each surgeon performed the same surgery, the same way, 600 to 800 times per year. This resulted in a recurrence rate of 1%, compared to 10% to 15% at most other institutions. At Shouldice Hospital, repetition breeds success.
But isn't there more to it than sheer numbers of surgeries performed?
Definitely.
Ask any surgical nurse and he or she will tell you that some surgeons are just more skilled than others. A University of Michigan study recruited surgeons to analyze videos of other surgeons performing operations and judge them as being more or less skilled based on the quality of their movements during the procedure. They found that surgeons who were judged as being more skilled had better outcomes and fewer complications than surgeons who were determined as being less skilled.
So there's more to choosing a surgeon than simply the number of procedures he or she performs. Bedside manner, meticulousness, quality of training, technique and the surgical facility all play a part in the outcome you might have.
But, as a general guideline, it's probably best to consider a doctor who performs a large number of the operation you are considering. Ask your surgeon how many he or she has done before signing up for the procedure.
In surgery, you don't want a jack-of-all-trades, master-of-none.
---
Have you been following me on Instagram?
Every day I post photos and videos from the clinic, the OR, and my daily life. Just in the past week I showed an arm lift (brachioplasty), Sculptra injections, Body FX, a tummy tuck, facial fat grafting, and more!
Please follow me at www.instagram.com/tonyyounmd! See you there!
---
Here are the latest episodes of my new podcast, The Holistic Plastic Surgery Show. Please SUBSCRIBE so you don't miss a single information-packed show!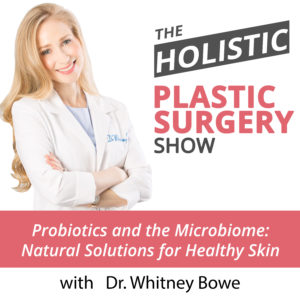 Episode #82– Probiotics and the Microbiome: Natural Solutions for Healthy Skin with Dr. Whitney Bowe– The microbiome is one of the hottest topics in health and medicine today. We're learning that the microbiome has profound impacts on not only the health of our gut, but also our weight, how our brain functions, and even the appearance of our skin.
My guest this week is one of the pioneers in exploring the gut-brain-skin axis, and how the trillions of bacteria inside our gut and on our skin impact how we look. We'll discuss the benefits of ingestible and topical probiotics, which foods to eat and avoid if you want a vibrant, healthy appearance, and much more. If you're interested in achieving healthy skin naturally, then this episode is for you.
Listen HERE with Apple devices or HERE with Android phones.
---
Episode #81 – Cooking to Balance Your Hormones with Magdalena Wszelaki –Are you one of the millions of women who suffer from symptoms caused from hormone imbalance, such as digestive issues, weight gain, anxiety, and mood swings? My guest this week is a certified nutrition coach who shares how to use the food you eat to balance your hormones.
In this episode we'll cover some really fascinating topics, such as why our traditional American breakfast is terrible for hormones, how eating just a tablespoon of seeds can make profound impacts on hot flashes and night sweats, and much more.
Listen HERE on Apple devices or HERE on Android.
Posted in: Plastic Surgery News