Don't Believe the Hype!
Posted on: Apr 11 2019
By: editor
I often get questions on social media regarding certain popular treatments that are promoted as the newest, best thing. While I'm all about giving my patients the absolute best and most state-of-the-art options in cosmetic medicine, there are a lot of treatments that are hyped up, only to disappear later. A recent read through the latest Aesthetic Surgery Journal reminded me of one: Threadlifts.
You may be seeing ads for threadlifts. These go by several branded names (often using the term "non-surgical facelift"), but they all do virtually the same thing: use barbed sutures to attempt to lift the face and neck. Threadlifts were popular in the early 2000's but faded into obscurity once doctors realized that they didn't work.
Unfortunately, threadlifts are making a comeback, with many plastic surgeons and dermatologists touting them as an effective option to lift droopy skin. These doctors often charge upwards of $1000 or more per suture that is threaded through your face.
I placed threadlifts on my Holistic Beauty Blacklist many months ago because I never believed in them.
Fast forward to today: an article in the March issue of the Aesthetic Surgery Journal confirmed my suspicions: Threadlifts are a waste of your money. While you might see a change right away, within a year your face will return to its original state.
So, buyer beware. If your doctor is trying to convince you that a threadlift will make you look younger for the next several years, he or she isn't being truthful. Trust your gut and remember that if it sounds too good to be true, it probably is.
If you ever wonder if a treatment gets my "Dr. Youn Holistic Stamp of Approval," check out my Dr. Youn Approved Holistic Treatments list HERE or my Holistic Beauty Blacklist HERE. I will keep them updated as new treatments continue to come out.
---
What is the perfect eye cream?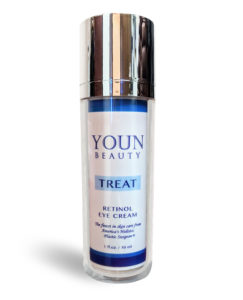 The perfect eye cream is one that is moisturizing, absorbs quickly, smooths fine lines, and thickens skin that is getting crepey.
The key ingredient is RETINOL. When used in an appropriate percentage, retinol is great for rejuvenating sensitive eyelid skin. My YOUN Beauty Retinol Eye Cream is just that.
If you haven't tried it, I encourage you to do so! It comes is a large 1 oz size, so it will last you many months. If you purchase it, you'll receive a FREE Marine Botanical Cleanser with your order! Save an additional 20% by signing up for every three month autoship!
Check it out by clicking HERE.
---
Here are the latest episodes of my podcast, The Holistic Plastic Surgery Show. Please SUBSCRIBE so you don't miss a single information-packed show!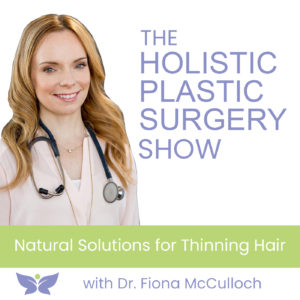 Episode #132– Natural Solutions for Thinning Hair with Dr. Fiona McCulloch – Over 20 million American women suffer from some form of thinning hair or hair loss. It's especially common in women over 65. We all know that there are a plethora of interventions to treat the symptoms of hair loss, but these treatments don't necessarily get to the root cause, which is often hormonal.
On this episode, I'm joined by a naturopathic physician and hormone expert. We reveal the most common causes of hair loss in women, from androgen excess to insulin resistance to nutritional deficiencies, and how to treat them naturally. We'll reveal what blood tests your doctor should be getting, what supplements you should consider taking, and what natural topical options can take the place of pharmaceuticals like Rogaine.
If you or someone you love is suffering from thinning hair or hair loss, and they don't want to undergo costly procedures or take pharmaceutical medications, then this episode is a must-listen.
To learn more, listen HERE with Apple devices or HERE with Android phones.
---
Episode #131 – Cutting Edge Advice from the Nation's Top Plastic Surgery Consultant with Melinda Farina – Plastic surgery is the wild west of medicine.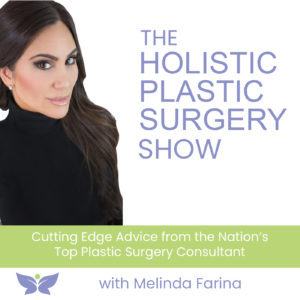 It's no surprise that there is a super popular television program called "Botched." So how do you avoid getting botched?
On this week's podcast, I'm joined by The Beauty Broker, Melinda Farina. She is the nation's premiere plastic surgery consultant, acting as an advisor for men and women considering plastic surgery all over the world.
And on this episode she is spilling it. She'll dish the dirt on which trendy procedures to consider and which ones to avoid, where to find the best plastic surgeons (hint: it's not necessarily on Instagram), and why using social media to choose your doctor may be a mistake.
It's an eye-opening interview with someone on the front lines of plastic surgery.
Listen HERE on Apple devices or HERE on Android.
Tagged with: detroit, Dr. Anthony Youn, Dr. Fiona McCulloch, dr. youn, Holistic Beauty Blacklist, Melinda Farina, Michigan, plastic surgery, Podcast, Threadlifts
Posted in: Plastic Surgery News