Secrets About Your Food You Should Know
Posted on: Jun 13 2018
By: editor
Food is Medicine. Eating the right foods can improve your health and appearance, and eating the wrong ones can drag you down. Here are a few quick tips that you may not have realized about the food you're eating!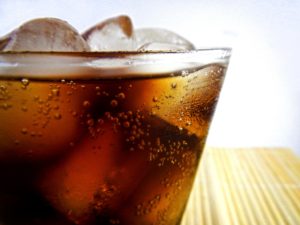 Diet soda will make you gain weight – People who drink diet soda pop, which is filled with unnaturally sweet sugar substitutes (some of which have been proven to cause cancer in rats), actually have a higher risk of being overweight and developing Type II Diabetes than people who don't drink it. The sugar substitutes desensitize your taste buds, causing you to crave sweeter and sweeter foods.
Do not combine milk with blueberries – Blueberries are filled with powerful anti-aging, free radical-fighting antioxidants. One study, however, has shown that combining blueberries with milk can block the antioxidant activity of the blueberries. So, if you like fresh blueberries with your cereal or oatmeal, try substituting regular milk for almond milk. It's better for you anyway!
Organic is more nutritious than conventional – Studies show that organic produce is actually more nutritious than conventional produce, by upwards of 20%! It also doesn't contain the herbicides and pesticides that may cling to conventional produce. The herbicide, Roundup, is used to gain a better crop yield at the expense of exposing you and your family to a potential human carcinogen. So if you eat conventional produce, make sure to wash it well!
Eggs from free range chickens are better for you than conventional eggs – Free range eggs have two times more omega-3 fatty acids, three times more vitamin E, seven times more beta-carotene, and 2/3rds more vitamin A than conventional eggs. And the chickens are treated more humanely, which is always a good thing.
---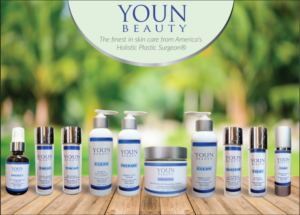 Have you tried the YOUN Beauty skin care line yet? If so, we are looking for reviews and testimonials! Please visit my Online Shop, click on an individual product you've tried, and leave a review! Thank you for trying and enjoying our new organic and natural skin care line!
---
Here are the latest episodes of my new podcast, The Holistic Plastic Surgery Show. Please SUBSCRIBE so you don't miss a single information-packed show!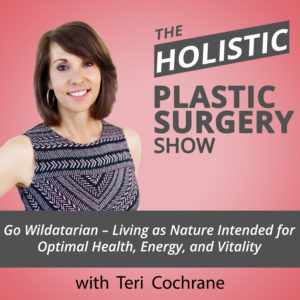 Episode #89– Go Wildatarian – Living as Nature Intended for Optimal Health, Energy, and Vitality with Teri Cochrane– Did you know that sulfur rich vegetables, such as kale and broccoli, aren't necessarily good for everyone? Or that peanut butter, one of my favorites, may harbor potentially carcinogenic aflatoxins? And that how you eat may be as important as what you eat? Yes, you can reap major benefits from simply taking time and enjoying your food.
On this episode, I'm joined by the leader and creator of the Wildatarian diet and lifestyle. We discuss how simple changes to your diet, such as exchanging farmed meats with wild game and conventional produce for organic can make massive changes to your health.
Listen HERE with Apple devices or HERE with Android phones.
---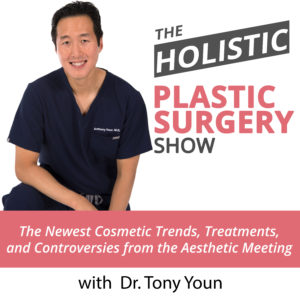 Episode #88 – The Newest Cosmetic Trends, Treatments, and Controversies from the Aesthetic Meeting with Dr. Tony Youn– Having just returned from the annual Aesthetic Society meeting, I'm going to share with you some of the hottest topics in cosmetic plastic surgery today. These topics include the new (an internal bra, nanofat grafting, RF microneedling, and PRP), the future (new types of botulinum toxin), and the controversial (breast implant-associated ALCL and mortality from buttock fat injections). We'll get to the bottom of the current state of plastic surgery. If you're interested in learning what plastic surgeons are talking about today, then this episode is for you.
Listen HERE on Apple devices or HERE on Android.
Tagged with: detroit, Detroit Plastic Surgeon, Dr. Anthony Youn, Food Secrets, Health and Wellness Tips, Holistic Diets, Holistic Plastic Surgeon, Michigan plastic surgeon, Podcast, Teri Cochrane, Wildatarian Diet, Youn Beauty
Posted in: Plastic Surgery News