Tips to Holistically Detox Your Home
Posted on: Jun 19 2018
By: editor
We tend to think of our homes as healthy refuges from potential hazards outside. But did you know that our homes also harbor potentially toxic elements that can affect our health? Here are some tips to make your homes holistically healthier: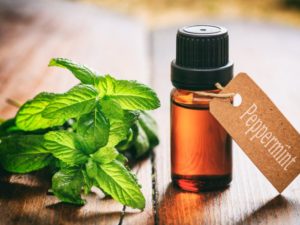 1. Don't sleep on your phone – Our mobile phones are constantly sending and receiving electromagnetic fields (EMF). Although the research is still early, there are potential health hazards with exposing yourself to too much EMF. To lessen the risks, do not sleep with your phone under your pillow or put it to airplane mode if you do.
2. Open your windows – Some studies report that the air inside our houses can be many times more contaminated than the air outside. So try to open your windows every now and then to get some fresh air inside your home.
3. Change your air filters – Speaking of fresh air, when was the last time you changed the air filters in your furnace? Ideally, you should aim to change them every 3 months, more often if you have several pets.
4. Use peppermint essential oil instead of bug repellent – Essential oils can often take the place of toxic household cleaners and chemicals. One of my favorite uses is peppermint oil on and inside my garbage cans. Having two dogs means we have lots of "poop bags" in our trash. Instead of spraying Raid to keep the flies away, try sprinkling peppermint essential oil along the edges of the garbage can. It repels the flies and prevents them from creating maggots (yuck!).
Interested in learning more about making your home as healthy as possible? Please see below for two great resources to help you get started – an online summit (collection of interviews with dozens of alternative health experts) and my newest podcast episode.
---
Here are the latest episodes of my new podcast, The Holistic Plastic Surgery Show. Please SUBSCRIBE so you don't miss a single information-packed show!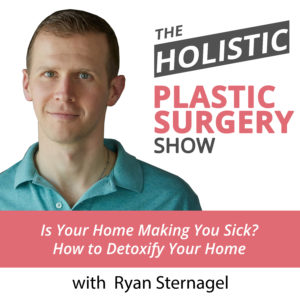 Episode #90– Is Your Home Making You Sick? How to Detoxify Your Home with Ryan Sternagel– This week I'm joined by a father who was pushed by his son's bout with cancer to look at how his home may have impacted his son's disease. Over four years ago Ryan's son was diagnosed with Stage 4 neuroblastoma. His prognosis was poor. However, after undergoing an integrative and alternative approach to cancer treatments, his son has survived and even thrived.
One of these alternative treatments was to remove anything from their home which may be contributing to his cancer. On this episode, Ryan is going to share with us some simple tips to make your home a healthy refuge, such as how to get clean air and water in your house, what types of magnetic fields may be causing health problems, why it's important to use natural cleaning products, and much more.
Listen HERE with Apple devices or HERE with Android phones.
---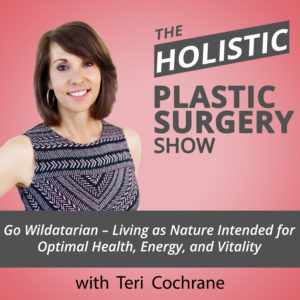 Episode #89 – Go Wildatarian – Living as Nature Intended for Optimal Health, Energy, and Vitality with Teri Cochrane– Did you know that sulfur rich vegetables, such as kale and broccoli, aren't necessarily good for everyone? Or that peanut butter, one of my favorites, may harbor potentially carcinogenic aflatoxins? And that how you eat may be as important as what you eat? Yes, you can reap major benefits from simply taking time and enjoying your food.
On this episode, I'm joined by the leader and creator of the Wildatarian diet and lifestyle. We discuss how simple changes to your diet, such as exchanging farmed meats with wild game and conventional produce for organic can make massive changes to your health.
Listen HERE on Apple devices or HERE on Android.
Tagged with: Detoxify Your Home, detroit, Detroit Holistic Doctor, Holistic Beauty Doc, Holistic Health, Holistic Plastic Surgeon, Michigan, Michigan Holistic Doctor, Peppermint Oil, Ryan Sternagel, Teri Cochrane, The Toxic Home Transformation Online Summit, Wildatarian Diet
Posted in: Plastic Surgery News