An Urgent Warning I Received This Week
Posted on: Jul 19 2018
By: editor
In the past week, a task force which includes the American Society of Plastic Surgeons and the American Society for Aesthetic Plastic Surgery issued an urgent warning to doctors regarding the number of deaths that have occurred in patients undergoing fat grafting to the buttocks, otherwise known as the Brazilian Butt Lift, or BBL.
As many as 1 in 3,000 people die from the BBL procedure, which is significantly higher than any other plastic surgery. This number is staggering, and I suspect nationwide it's much worse. These statistics only include real, board-certified and properly trained plastic surgeons, not the thousands of doctors masquerading as real plastic surgeons who are also performing this operation across the country.
How does this happen? Previously, plastic surgeons were confident their patients were safe because their techniques and instruments were designed to avoid actual injection into blood vessels.
Unfortunately, studies are now showing that the surgeon doesn't have to actually inject the fat into a blood vessel to cause a fatal fat embolism. Fat injected next to these blood vessels, especially when injected with high pressure, can seep through tiny tears in the large veins of the buttocks and enter the bloodstream. Minutes later the patient could die.
This situation is horrifying. The thought of a woman losing her life in order to get a larger butt is just unacceptable. Even scarier, the popularity of this surgery on social media has caused a flood of young women to undergo this operation. BBL was one of the fastest growing plastic surgeries over the past several years, likely due to social media.
Having a big booty might be trendy, but in my opinion the risks of BBL surgery outweigh the benefits!
---
Have you joined our True Beauty is Holistic Facebook group? 
I created this group to serve as an exclusive and private community of beautiful people who reject certain mainstream cosmetic options in favor of a holistic approach to health and beauty- mind, body, and soul. We ask questions, give advice, and learn from each other.
I also share daily videos from the office and operating room and answer YOUR questions! We also periodically give FREE gifts and discounts to members only!
As a member of my community, you are invited to join for FREE! Just click HERE to claim your spot! See you there!
---
Here are the latest episodes of my new podcast, The Holistic Plastic Surgery Show. Please SUBSCRIBE so you don't miss a single information-packed show!
Episode #94– Have you ever tried a detox? What exactly is a detox, and what can it do for you?
In this episode, I'm joined by a functional diagnostic nutrition practitioner to reveal simple but effective ways to remove unwanted toxins from your body and your home. We discuss exactly what the term "toxin" means, how toxins affect your health, weight, and appearance, and five sources of toxins affecting us in our homes.
She will also introduce a very simple, five minute morning detox ritual which can get you feeling and looking better in as little as five days.
If you've ever wondered what the benefits of a detox are or considered doing one, then this episode is for you.
Listen HERE with Apple devices or HERE with Android phones.
---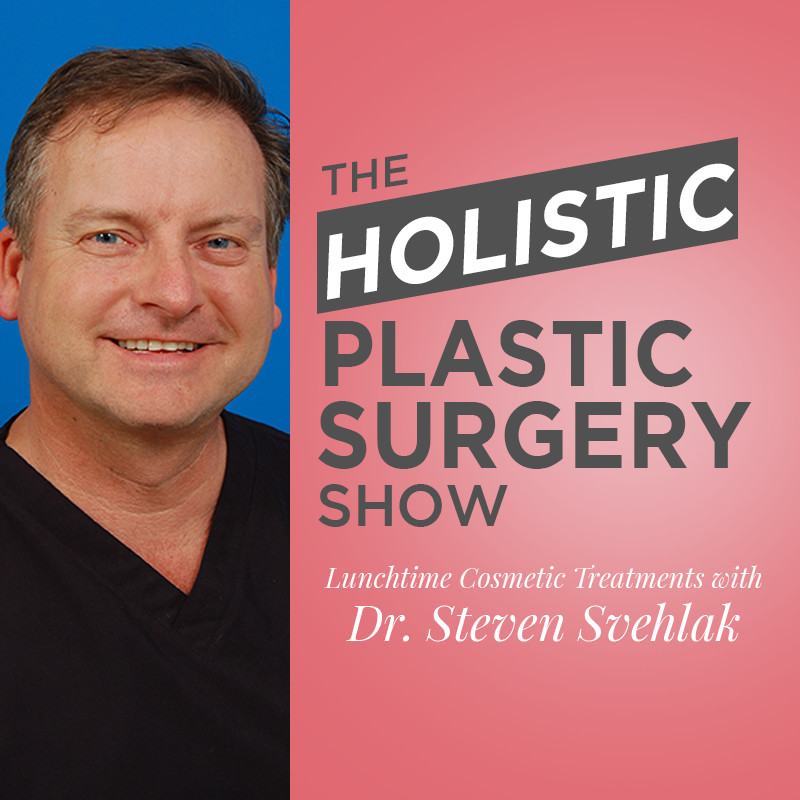 Episode #93 – Lunchtime Cosmetic Treatments with Dr. Steven Svehlak – Do you want to look better without having to undergo a lot of pain, downtime, and a general anesthesia? Minimally-invasive procedures are all the rage in plastic surgery today. Now we are able to remove fat, lift necks, reshape the nose, and get rid of saggy eyelid skin with shorter recoveries, smaller scars, and less cost than ever before. Sounds good, right?
My guest in this episode is a master at performing these types of lunchtime procedures. So please join me and Beverly Hills Plastic Surgeon Dr. Steven Svehlak as we explore the world of lunchtime cosmetic treatments.
Listen HERE on Apple devices or HERE on Android.
Tagged with: BBL, BBL Dangerous, Brazilian butt lift, Bridgit Danner, detroit, Dr. Anthony Youn, Dr. Steven Svehlak, dr. youn, Holistic Beauty Doc, Michigan, plastic surgery, Plastic Surgery Warning, Podcast, Youn Plastic Surgery
Posted in: Plastic Surgery News