Are Your Hands as Dry as Mine?
Posted on: Nov 25 2020
By: editor
It's getting cold in Michigan! Is it as cold where you are?
If you're like me, you've been washing your hands constantly. This, combined with the cold and low humidity, has left my hands dry and even cracked at times. So here are some tips to survive the cold weather with more comfortable skin.
1. Moisturize within 3 minutes of getting out of the shower. Although lukewarm water won't dry your skin out as much as hot water, I can't ask you to completely forego a hot shower. Instead, make sure to apply your moisturizer within a couple minutes of exiting the shower to lock in the moisture. Last year I discovered this awesome body moisturizer: Epicuren Kukui Coconut After Bath Body Moisturizer. My wife and I love how it smells and feels on our skin. Check it out on Amazon.com HERE.
2. Use an all-natural hand cream, not one made for the body. Body moisturizers aren't meant to last multiple washings like hand moisturizers. Stick with hand creams for the hands, body creams for the body.
3. If your hands or feet are really dry, moisturize, then cover with gloves or socks overnight. My favorite for overnight use is Waxalene, an organic petroleum jelly alternative based on bees wax. It's a bit pricey, but worth it for a natural and organic product. Check it out on Amazon.com HERE.
4. Finally, make sure to use a humidifier at home. If you have one attached to your furnace, check that it is turned to "winter" mode so you know it's working!
Here's to soft, moisturized hands, feet, and legs!
---
Here are the latest episodes of my podcast, The Holistic Plastic Surgery Show. Please SUBSCRIBE so you don't miss a single information-packed show!
Episode #212– Four Hot New Cosmetic Treatments with Dr. Anthony Youn – Plastic surgery and cosmetic medicine make continuous advances, even amid a pandemic.
In this episode, I share with you the five most talked about new treatments in cosmetic medicine today. They promise to smooth your cellulite, plump your pout, volumize your cheeks, and tighten your tummy. But are they all they're cracked up to be?
I'll have the answers for you on this podcast!
Please join me as I reveal Four Hot New Cosmetic Treatments!
To learn more, listen HERE with Apple devices or HERE with Android phones.
---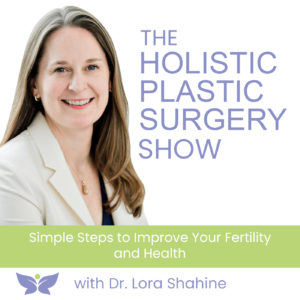 Episode #211– Simple Steps to Improve Your Fertility and Health with Dr. Lora Shahine – Whether you're a man or a woman, your health profoundly impacts your fertility. Although much of Western medicine is focused on interventions when it comes to fertility options, did you know that your fertility can be improved with simple, diet and lifestyle-based changes?
On this week's podcast I'm joined by one of the country's foremost reproductive endocrinologists. She helps women (and men) improve their fertility and conceive, often using a combination of Eastern and Western medicine, otherwise known as a true integrative approach. We discuss the benefits of integrative medicine on your fertility and overall health, and tackle such subjects as toxins, acupuncture, the schism between conventional and alternative medicine, and much more.
Listen HERE on Apple devices or HERE on Android.
Tagged with: Black Friday, Dr. Lora Shahine, dr. youn, Holistic Health, Moisturize, Podcast, skin care, Winter Skin
Posted in: Plastic Surgery News