At-Home Beauty Tricks!
Posted on: Nov 8 2021
By: editor
It's becoming a busier time of year, and sometimes it's hard to find the time to visit your dermatologist or aesthetician, if you can even get on the schedule within a reasonable time frame!
Although these options won't completely take the place of seeing an expert injector or aesthetician, they can help keep your skin looking youthful without having to leave the comfort of your home!
1. Retinol – If there is one thing everyone must do, it's use a retinol moisturizer every night. Most doctors agree that retinol is the most studied and effective anti-aging non-prescription skin care product available. Most skin care lines have a retinol cream, so you can find them online. Otherwise, the YOUN Beauty Retinol Moisturizer is, by far, our top seller. And like all YOUN Beauty products, it is made with natural and organic ingredients. You can check it out by clicking HERE.
2. Extend your Latisse – You didn't hear this from me, but to make your Latisse last longer, yet still give you luscious lashes, do this: Apply a drop of Latisse onto the applicator. Swipe your right eyelid, then your left eyelid- both with the same applicator and only one drop of Latisse. The next day do the same thing, except swipe your left eyelid first, then your right. When you run out of applicators, use a Q-tip to apply the leftover Latisse in the bottle. This will make your Latisse last two to three times longer than the manufacturer recommends.
3. Try a Dermal Roller – Miss your microneedling sessions with your aesthetician? Although it's not the same, a dermal facial roller can help modestly microneedle your skin until you get back into the chair to see your specialist. Just make sure it's a roller from a reputable brand, because you don't want the at-home treatment to be too aggressive.
4. Plump Your Lips Without Filler – One simple and inexpensive way to plump your lips without filler is to put a couple drops of food-grade peppermint oil into your lip gloss, mix it up, and then apply to your lips. The peppermint oil will make your lips feel tingly (if it stings you put too much in!) and mildly swell up. It's temporary, but it works well!
5. IPL Alternative – IPL is no doubt the most effective and quickest option to lighten dark spots. But what if you want an alternative? Try a brightening cream. A hydroquinone based brightening cream, like the ZO Skin Health Pigment Control Cream, is extremely effective but must be purchased through a doctor's office. Another option is to look for brightening creams that contain ingredients such as kojic acid and niacinamide. We offer a nice one called the YOUN Beauty Brightening Cream, which you can check out online by clicking HERE.
I hope these are helpful for you!
---
Here are the latest episodes of my podcast, The Holistic Plastic Surgery Show. Please SUBSCRIBE so you don't miss a single information-packed show!
Episode #262 – How to Treat Acne Holistically with Dr. Anthony Youn – Are you one of the 50 million Americans who is dealing with unwanted acne? This skin condition can be a real pain.
But did you know that there are effective, natural options to improve it?
On this podcast, I'll share with you six holistic tips to improve your acne. These tips involve simple changes to what you eat and put on your skin. The best part is they don't involve you going to the doctor.
To learn more, listen HERE with Apple devices or HERE with Android phones.
---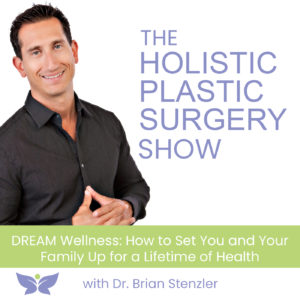 Episode #261 – DREAM Wellness: How to Set You and Your Family Up for a Lifetime of Health with Dr. Brian Stenzler – Achieving optimal health has never been more important than it is today in the middle of a global pandemic. Improving your health today may not only prevent you from getting sick in the future, but help you survive should you get sick.
Dr. Brian Stenzler has written a book that acts as a guide to setting us and our families up for a lifetime of health. It's called DREAM Wellness, an acronym for Diet, Relaxation, Exercise, Adjustment, and Mental Wellness. On this episode we discuss his approach to ideal health, what simple steps you can take to improve the health of your family, and why it's more important now than ever before to take these little steps to wellness.
Listen HERE on Apple devices or HERE on Android.
Tagged with: At Home Beauty, Brightening Cream, Derma Roller, detroit, Dr. Anthony Youn, Dr. Brian Stenzler, dr. youn, IPL, Latisse, Michigan, Microneedling, Podcast, Retinol, Retinol Moisturizer, skin care
Posted in: Plastic Surgery News