Avoid these 5 Cosmetic Surgeries!
Posted on: May 13 2021
By: editor
Although all cosmetic surgeries and procedures come with risks, some are more dangerous than others. They can potentially lead to disfigurement, tissue damage, and even death!
Here are five plastic surgeries that I personally recommend staying away from. These are procedures I don't perform in my practice!
Breast Augmentation with Textured Breast Implants – You may have heard of these as the traditional "gummy bear" implants. Unfortunately, textured-surface implants are associated with a rare type of cancer called anaplastic large cell lymphoma (ALCL). Natrelle textured implants have even been recalled. I am grateful and relieved that during the last 17 years of practice, I have probably put in less than 10 pairs of these.
Permanent Filler Injections – Permanent fillers can come with permanent problems. In some cases, the filler can harden and get infected years after the initial injection. In addition, if the filler is accidentally injected into a blood vessel it can cause necrosis (tissue death). Yikes!
Threadlifts – I get asked about threadlifts all the time, as they come back in style every 10 years or so. Threadlifts simply don't work. While the procedures are safer than they used to be, threadlifts do not provide long lasting results and are really expensive! Don't waste your money.
Brazilian Butt Lift (BBL) – This surgery is incredibly popular, but it actually has the highest death rate in plastic surgery. According to one study, one in 3,000 people die when they undergo this operation by poorly trained hands. Why does this happen? Fat may inadvertently be injected into the blood vessels of the buttocks, causing massive fat embolisms.
Donut Breast Lift – In this type of a lift, the incision is made around the areola only, leaving a shorter scar. Unfortunately, the tension often makes the scars widen. This can cause the areola to become extremely large and change shape. Not the look most people want! The donut breast lift should only be used in VERY select cases.
---
Here are the latest episodes of my podcast, The Holistic Plastic Surgery Show. Please SUBSCRIBE so you don't miss a single information-packed show!
Episode #237 – The Five Worst Skin Care Trends with Cassandra Bankson – With so many skincare trends online, how are you to know which ones are good and which aren't?
My guest this week is one of social media's most-followed skin care influencers. A certified medical aesthetician and nutritionist with millions of followers, she has her finger on the pulse of skin care and beauty.
So should you do ice facials? What about at-home microneedling? How about using ginger to remove blackheads? And what does she think about the Hyaluron pen?
We dish the dirt on skin care trends that are dangerous, don't work, and just need to go away!
To learn more, listen HERE with Apple devices or HERE with Android phones.
---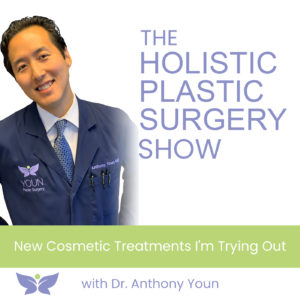 Episode #236 – New Cosmetic Treatments I'm Trying Out with Dr. Anthony Youn – Eyelid crepiness. Loose skin of the tummy and arms. Unwanted hair. Cellulite.
These are just a few of the cosmetic issues that I'm covering on today's episode. I've brought some of the newest treatments and technology to YOUN Plastic Surgery, and on this podcast I'm revealing them to you, along with an honest opinion of what I think of them.
If you like to be on the cutting edge of cosmetic medicine (without the cutting), then this episode is for you.
Listen HERE on Apple devices or HERE on Android.
Tagged with: 2012 plastic surgert predictions, BBL, detroit, Donut Breast Lift, dr. youn, Holistic Health, plastic surgery, skin care, Surgeries to Avoid, Textured Breast Implants, Threadlifts
Posted in: Plastic Surgery News