Hot Topics and New Treatments in Cosmetic Medicine
Posted on: May 2 2018
By: editor
I'm writing you from my hotel room in New York City, where I'm attending the annual meeting for the American Society for Aesthetic Plastic Surgery. This is the meeting where plastic surgeons gather from around the country and the world to learn new techniques and get the latest scoop on exciting things to come. Thought you might be interested in some highlights:
1. One company is working on a game-changer – an injectable treatment for the long-term reduction of cellulite. It's still in the FDA approval pipeline, but I'll be really excited to share this with you when it hits doctors' offices!
2. Cosmetic genital treatments remain all the rage. Although we don't do these treatments at YPS, other doctors report impressive results with ThermiVa, Mona Lisa Touch, and others. If you or someone you know has issues with bladder incontinence or dryness and sensitivity, these treatments may be just what you're looking for.
3. The newest fillers poised to hit the market work in a very different way than ever before. They are considered "hydrating" fillers and are injected very superficially into the skin to plump it up, reducing fine lines and smoothing the skin. These fillers are very popular in Europe right now. Hopefully, they become available in the US soon!
4. Breast Implants and ALCL (Anaplastic Large Cell Lymphoma) continue to be a hot topic in plastic surgery. ALCL is a very rare cancer that is associated with breast implants with textured surfaces. We are finding that the texturing of the implant surface is one big key to development of this condition. I am happy to say that 99.5% of my breast implant patients have smooth, not textured, implants, and I no longer use textured implants in my practice.
5. Galaflex – Finally we have an "internal bra!" This is an absorbable mesh that can be used during breast lift surgery to aid in preventing the breast from re-drooping with time. This is something that I'm very excited about in my practice.
6. Obalon – This is a group of three balloons that you swallow to help with weight loss. Basically, they take up space in your stomach to make you feel full faster. The balloons are left in place for six months, and studies show the majority of people keep the weight off afterwards. Interesting, right? Although it's much less invasive than bariatric surgery, I still believe weight loss using natural means is the best way to go.
These are just some of the hot topics in cosmetic medicine today. I plan to do a podcast episode breaking all of these down and much more, so please be on the lookout for that!
---
Have you been following me on Instagram?
Every day I post photos and videos from the clinic, the OR, and my daily life. This past week I showed a lower facelift, an upper eyelid lift, liposuction, highlights from the Aesthetic Meeting, and more!
Please follow me at www.instagram.com/tonyyounmd! See you there!
---
Here are the latest episodes of my new podcast, The Holistic Plastic Surgery Show. Please SUBSCRIBE so you don't miss a single information-packed show!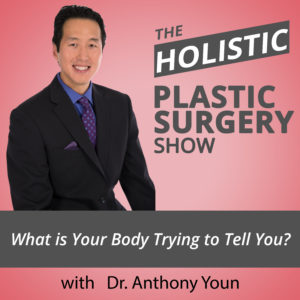 Episode #83– What is Your Body Trying to Tell You? – One of my good friends calls the skin our "Magic Mirror." It often shows us what is going on under the surface before other parts of our body reveal them to us. On this episode, I'll reveal to you six not-so-hidden signs that everyone must be on the lookout for. How can a dimple on the breast be a sign of breast cancer? Why does a crease in the earlobe signal underlying heart disease? What do your teeth have to do with pancreatic cancer? And what does erectile dysfunction have to do with all this? We'll solve these medical mysteries together on this podcast.
Listen HERE with Apple devices or HERE with Android phones.
---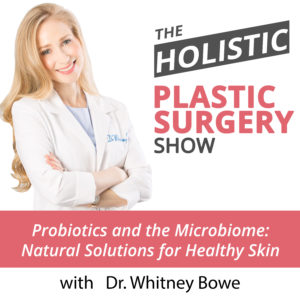 Episode #82 – Probiotics and the Microbiome: Natural Solutions for Healthy Skin with Dr. Whitney Bowe– The microbiome is one of the hottest topics in health and medicine today. We're learning that the microbiome has profound impacts on not only the health of our gut, but also our weight, how our brain functions, and even the appearance of our skin.
My guest this week is one of the pioneers in exploring the gut-brain-skin axis, and how the trillions of bacteria inside our gut and on our skin impact how we look. We'll discuss the benefits of ingestible and topical probiotics, which foods to eat and avoid if you want a vibrant, healthy appearance, and much more. If you're interested in achieving healthy skin naturally, then this episode is for you.
Listen HERE on Apple devices or HERE on Android.
Tagged with: american society for aesthetic plastic surgery, ASAPS, Breast Implants and ALCL, cosmetic surgery, detroit, Dr. Anthony Youn, Dr. Whitney Bowe, Galaflex, Hot Topics in Plastic Surgery, Michigan, Obalon, plastic surgery, plastic surgery trends, Youn Plastic Surgery
Posted in: Plastic Surgery News