New Ways To Lose Fat Without Surgery
Posted on: Jun 27 2018
By: editor
Several years ago I said on The Rachael Ray Show that non-invasive fat reduction is the holy grail of plastic surgery. Not only have we achieved this, but it seems that new treatments to reduce fat without surgery are hitting the market every month. Here are some of the newest options for fat reduction without surgery, some of which most plastic surgeons don't even know about yet!
1. Ultraslim – This interesting new treatment claims to reduce an average of 3.5 inches and 1.6 liters of fat after one 32 minute session! It utilizes a patented type of red light therapy to do this without any pain, discomfort or downtime. Sounds too good to be true? I have to believe that it is. Time will tell, but buyer beware until then!
2. Emsculpt – This new treatment utilizes high intensity focused electromagnetic energy to target the fat and muscle of the abdomen or buttocks. Early studies show that after four treatments subjects lost fat and actually gained muscle. It's believed that the electrical stimulation of the muscle causes it to increase in size, as if it's being exercised. But is the muscle gain permanent? That's the interesting question!
3. Kybella for armpit fat – Kybella is FDA approved for reducing double chin fat. At YPS we've performed this procedure on many, many patients with dramatic results. We're also now using it on other areas, such as protruding armpit fat. I've performed liposuction on the armpits with decent results, but the use of Kybella in these areas is a nice, non-surgical option.
4. Silkn Lipo – This at-home fat reducing device uses low light lasers to reportedly reduce fat from isolated areas. It's painless and can be done in the privacy of your own home. Like Ultraslim, is it too good to be true? It just received FDA clearance a couple weeks ago and is being shipped to the first customers. Once I start hearing reviews I'll let you know!
---
Do you follow me on Instagram? If not, you're missing out! Every day we post videos and photos straight from the office and OR. This week we've already showed a lip enhancement and tummy tuck, and last week we showcased an arm lift (brachioplasty), Botox, laser treatments, and more. All this, plus holistic health and beauty recommendations, Q&A, prize giveaways, and much more!
Follow me at www.instagram.com/tonyyounmd. I'd love to hear from you there!
---
Here are the latest episodes of my new podcast, The Holistic Plastic Surgery Show. Please SUBSCRIBE so you don't miss a single information-packed show!
Episode #91– Seven Tips to Look and Feel Your Best from a Chinese and Regenerative Medicine Specialist with Dr. Robyn Benson– There is so much that you can do from a holistic perspective to look and feel better about your health and appearance. On this episode, I'm joined by an expert in regenerative treatments.
I've asked her to give us her top seven tips to turning back the clock to look and feel your best. These tips include how to optimize your exercise routine, what to hydrate your body with, how much sleep you should be getting, how food can be used as medicine, and which natural, regenerative treatments can create major changes in your appearance. It's a refreshing look at turning back the clock from a holistic perspective.
Listen HERE with Apple devices or HERE with Android phones.
---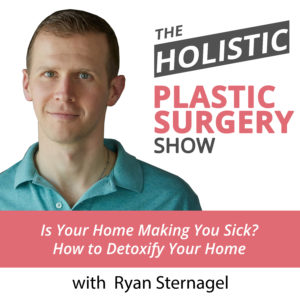 Episode #90 – Is Your Home Making You Sick? How to Detoxify Your Home with Ryan Sternagel– This week I'm joined by a father who was pushed by his son's bout with cancer to look at how his home may have impacted his son's disease. Over four years ago Ryan's son was diagnosed with Stage 4 neuroblastoma. His prognosis was poor. However, after undergoing an integrative and alternative approach to cancer treatments, his son has survived and even thrived.
One of these alternative treatments was to remove anything from their home which may be contributing to his cancer. On this episode, Ryan is going to share with us some simple tips to make your home a healthy refuge, such as how to get clean air and water in your house, what types of magnetic fields may be causing health problems, why it's important to use natural cleaning products, and much more.
Listen HERE on Apple devices or HERE on Android.
Tagged with: Detroit Plastic Surgeon, Dr. Anthony Youn, Dr. Robyn Benson, Emsculpt, Kybella, Lose Fat Without Surgery, Non-surgical Fat Reduction, plastic surgery, Rachel Ray Show, Regenerative Medicine, Ryan Sternagel, Silkn Lipo, Ultraslim
Posted in: Plastic Surgery News