One Change To Your Diet That Can Change Your Life
Posted on: Aug 2 2018
By: editor
Have you considered going gluten-free? If not, I encourage you to consider trying it.
Going gluten-free is a recent health trend, but it's also a must for people with sensitivities or an intolerance to the protein. It can cause anything from fatigue and skin rashes to gastrointestinal problems like malnutrition and malabsorption.
I believe a larger percentage of the population is sensitive to gluten than the general public realizes. In fact, many functional medicine doctors and holistic health experts find their patients improve their symptoms of digestive issues, weight gain, fatigue, brain fog, autoimmune issues and generalized inflammatory conditions by going gluten-free.
If you do want to start going gluten-free, you'll want to avoid foods that contain wheat, barley, malt, rye, brewer's yeast, and most oats. Instead, look for foods like quinoa, brown rice, nut flours, and buckwheat.
Check out these experiences from members of our community:
"Going gluten-free has resolved joint pain, brain fog, memory problems, skin rashes, and GI issues for me. It stopped the worsening of my vitiligo too, I'm convinced. Not for everyone but feel so much better eating gluten free." — R.O.

"I used to get brain fog so bad and just feel exhausted tried gluten free and don't have that problem anymore" — R.B.

"Gluten used to cause my left foot to swell. No gluten, no swollen foot." — S.H.
If you haven't tried going off gluten, I encourage you to try it and see if you feel better!
Usually taking two weeks off gluten is sufficient to give you a good idea of what it can do for you.
---
Interesting New Use For Kybella
Kybella is an FDA-approved injectable for reducing a double chin. It takes 2-4 treatments for maximal effect, but really works.
We (and other doctors) are now using Kybella off-label to reduce isolated fat pockets in other areas. These can be areas that are too small for liposuction or Sculpsure (like the upper knees and armpits) and even to treat post-liposuction contour deformities.
It's an exciting time to get rid of fat without surgery!
At YPS, Kybella costs $600 per vial. For a limited time, we are offering it for $150 off per vial. Call us at (248) 273-7700 if you are interested in making an appointment!
---
Casting Call!
Do you or someone you know have BDD (Body Dysmorphic Disorder)? This is a condition where a person sees herself in the mirror differently than anyone else and undergoes plastic surgery to correct issues that are relatively minor. Sometimes people with BDD end up having too much surgery, making them look unnatural.
I'm working with a national television show to shine a light on this condition. If you or someone you know is dealing with BDD (even if you haven't been formally diagnosed) and would be willing to tell your story on TV to help yourself and others with it, then please email us at [email protected]. If chosen, you will receive an all-expense paid trip to New York to be featured on this program with me.
---
Here are the latest episodes of my new podcast, The Holistic Plastic Surgery Show. Please SUBSCRIBE so you don't miss a single information-packed show!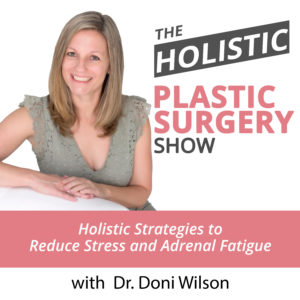 Episode #95– Holistic Strategies to Reduce Stress and Adrenal Fatigue with Dr. Doni Wilson – Stress. We all have it. While a little stress may be good for you, the stress that so many of us experience each day can tax our adrenal glands, prematurely age our skin, and even contribute to an early death.
On this episode, I'm joined by a naturopathic physician and expert in dealing with stress from a natural perspective. We'll discuss one major type of stress that you may not have realized you have, how stress can wreak havoc on your cortisol levels, and why adrenal fatigue isn't diagnosed by most conventional physicians but is a real issue for so many of us. And she'll give many simple, practical tips on how you can manage your stress and get your life back on track.
Listen HERE with Apple devices or HERE with Android phones.
---
Episode #95 – Five Top Tips To Look Ten Years Younger with Dr. Jonathan Kaplan – Who doesn't want to look younger? On this episode of the Holistic Plastic Surgery Show, I'm joined by the doctor who was voted best plastic surgeon in the San Francisco Bay area. Known across the country as Dr. Bae, he will give us his top five tips and treatments for turning back the clock ten years. Surgical and non-surgical, his recommendations are simple but effective.
If you want to look ten years younger, but don't know where to start, then this episode is for you.
Listen HERE on Apple devices or HERE on Android.
Tagged with: body dysmorphic disorder, cosmetic surgery, detroit, Dr. Anthony Youn, Dr. Bae, Dr. Doni Wilson, dr. youn, Gluten-Free, Kybella, Michigan, plastic surgery, Podcast, Stress Management, Youn Plastic Surgery
Posted in: Plastic Surgery News