The Top 5 Best Cosmetic Bangs for the Buck
Posted on: Jan 17 2019
By: editor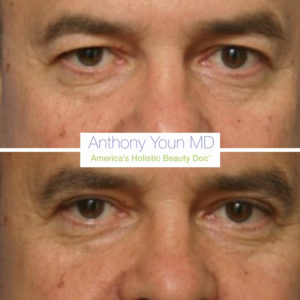 It's a question I get asked every day, "What is the biggest bang for my cosmetic buck?" There are so many options out there, which do you choose? I've compiled my list of the Top 5 Cosmetic Bangs for the Buck. Here they are:
5. Intense Pulsed Light (IPL) – Do you have sun and age spots that you want to get rid of? IPL is the fastest, most effective way to remove them, sometimes in as little as a week! All that, with no downtime.
4. Upper blepharoplasty (upper eyelid lift) – It only takes about an hour and most people don't take any pain pills afterwards. This relatively simple operation can easily take ten years off.
3. Microneedling with Tensage growth factors – This popular treatment combines tiny needle punctures in the skin with application of growth factors to create an inexpensive and easy rejuvenation with minimal downtime. Some centers use PRP (platelet rich plasma) instead of Tensage, but Tensage is much less expensive.
2. Retinol moisturizing creams – If you poll plastic surgeons and dermatologists, the majority of them would confirm that the best anti-aging creams contain retinol or prescription strength tretinoin. I agree! Therefore the cornerstone of my holistic, anti-aging skin care line is the YOUN Beauty Retinol Moisturizer. Learn more about it HERE.
And the number one best bang for your anti-aging buck is….
1. DYSPORT! Dysport is currently the only valid competitor to Botox. Both of them are botulinum toxins, they both work similarly, BUT Dysport is less expensive than Botox. For this reason, I believe it's the best cosmetic buy for your buck.
Interested in learning more? You can check an article on aging skin HERE.
---
Here are the latest episodes of my podcast, The Holistic Plastic Surgery Show. Please SUBSCRIBE so you don't miss a single information-packed show!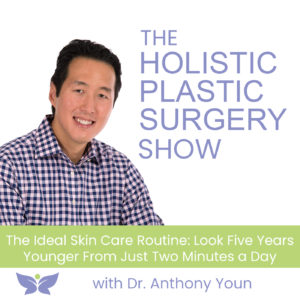 Episode #120– The Ideal Skin Care Routine: Look Five Years Younger From Just Two Minutes a Day with Dr. Anthony Youn – If you're like millions of Americans, checking out your local department store's beauty counters can be overwhelming. It seems there's a new cream each day that promises to smooth this, lift that, and tighten everything else.
On this episode I cut through all the marketing and bogus claims. I've spent several years developing the simplest and easiest skin care program that gives the maximum in anti-aging benefits. And all it takes is just two minutes a day to look upwards of five years younger in just 8 weeks.
If you're interested in getting the maximum benefits from your skin care products with the minimum of cost and effort, then this podcast is for you.
To learn more, listen HERE with Apple devices or HERE with Android phones.
---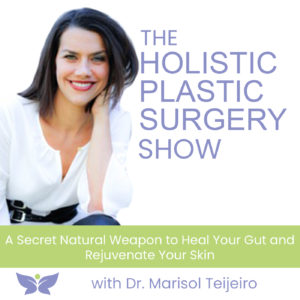 Episode #119 – A Secret Natural Weapon to Heal Your Gut and Rejuvenate Your Skin with Dr. Marisol Teijeiro – The health of your GI tract is reflected in the condition of your skin. This gut-skin axis is on the cutting edge of holistic health and beauty research. So how can we maximize the youthfulness of both?
My guest this week is a renowned naturopathic physician who has dedicated herself to healing her patients' gut-skin axis. We reveal my guest's secret natural weapon for healing the gut, regulating bowel movements, and even growing thicker eyelashes. As you may guess, this is a very fun and eye-opening discussion!
Listen HERE on Apple devices or HERE on Android.
Tagged with: Best Treatments for the Money, Cosmetic Treatments, detroit, Dr. Anthony Youn, Dr. Marisol Teijeiro, dr. youn, Dysport, IPL, Metabolism Challenge, Michigan, Microneedling, plastic surgery, Podcast, Retinol Creams, Upper Eyelid Lift
Posted in: Plastic Surgery News