A Concerning New Problem for Women
Posted on: Oct 24 2018
By: editor
If your life has been touched by birth control you need to hear this.
There's an emerging problem facing women globally when they stop taking hormonal birth control.
This epidemic causes major challenges for women's hormones including hair loss, weight gain, mood swings, anxiety, insomnia, libido loss, cystic acne, and digestive disorders.
Even worse — it may prevent women who want to have children from doing so — potentially forcing their reliance on further medical intervention.
This epidemic is called Post-Birth Control Syndrome (PBCS). I've been learning about this developing and concerning condition for the past several years.
PBCS is defined by Dr. Jolene Brighten (the physician who first identified the syndrome) as
"the collection of disruptive symptoms women face once they've concluded the use of hormonal birth control."
These symptoms can include but are not limited to:
Headaches
Hair loss
Libido loss
Mood swings
Insomnia
Depression
Anxiety
Chronic yeast infections and UTIs
Cystic acne, outbreaks, and rashes
Irregular or nonexistent periods
Infertility, difficulty conceiving
Painful, heavy periods
If you or a woman you love has experienced any of these symptoms since getting on or off hormonal birth control, there is a chance that PBCS is the cause. It's believed that the longer the exposure to hormonal birth control, the higher the risk.
The good news is that Post-Birth Control Syndrome can be reversed. Dr. Brighten has developed a treatment protocol (The Brighten Protocol) for women's hormones that not only reverses PBCS but also balances women's intricate hormonal matrix for healthy, normal periods and fertility.
So how do you learn more?
I'm excited to be a part of Dr. Brighten's Post-Birth Control Syndrome Awareness Week November 5-11, 2018.
This week is full of free online classes that will help you reverse this syndrome and heal your body. You'll also learn things like:
Questions you should ask your doctor about birth control
How to prevent the side effects of birth control if you're already on it
Natural fertility and contraceptive methods so you don't have to rely on pharmaceuticals
How to reverse PBCS if you have it
If you know a woman whose life has been touched by hormonal birth control, please forward this email to her. When we have the tools to name the problem, we can take action to reverse it.
But most women don't know about PBCS — yet. And many suffer in silence, never telling friends or family about their symptoms. Their doctors may have even told them it's "all in her head."
It's not all in her head. PBCS appears to be real.
Please join me and my fellow holistic health experts. Together, we can fight PBCS and make it possible for women to heal.To join us for the FREE online event, click HERE.
---
Here are the latest episodes of my podcast, The Holistic Plastic Surgery Show. Please SUBSCRIBE so you don't miss a single information-packed show!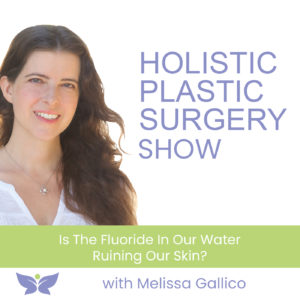 Episode #108– Is the Fluoride in Our Water Ruining Our Skin? with Melissa Gallico– Nearly 70% of the homes in the United States receives fluoridated water. But is it really necessary, and is it possible that fluoride is actually bad for us?
My guest this week has spent years researching the connection between fluoride consumption and inflammatory skin conditions such as cystic acne. So if you or someone you love has suffered from lesions of your skin or adult acne, and you can't figure out what's causing it, then you may want to consider fluoride.
On this episode we discuss this topic in depth, including how to determine if your acne is caused by fluoride, alternate sources of fluoride that could be harming you, and what you can do about it.
To learn more, listen HERE with Apple devices or HERE with Android phones.
---
Episode #107 – A Plastic Surgeon's Top Seven Non-Surgical Tips for Looking Your Best with Dr. Sanjiv Kayastha– On this episode, I'm joined by a board-certified cosmetic plastic surgeon who provides his patients the entire spectrum of treatment options, from skin care to lasers to injections to surgery. We're going to get to the bottom of what treatments you should consider having done, and in what order, so you can make the best of your time and money.
His recommendations are simple, make sense, and are easy to start. We'll reveal why you don't necessarily need surgery to look and feel your best.
Listen HERE on Apple devices or HERE on Android.
Tagged with: Birth Control Dangers, Dr. Anthony Youn, Dr. Jolene Brighten, Dr. Sanjiv Kayastha, dr. youn, Fluoride Dangers, Melissa Gallico, Post-Birth Control Syndrome, Youn Plastic Surgery
Posted in: Plastic Surgery News