Feel Better by Trying This
Posted on: Feb 27 2020
By: editor
Do you get stressed out? I know I do, and a lot of my patients do as well.
I've always been disheartened by how many of my new patients are on anti-anxiety medications. Some of these medications are addictive, like benzodiazepines, and can be dangerous when combined with alcohol and other prescription drugs.
So do you feel stressed out sometimes? Would like you like an all-natural way to go from stress to zen?
If so, then you might want to try essential oils. Essential oils are highly concentrated natural oils that can be effectively used as aromatherapy to soothe frazzled nerves. Here are some suggestions for calming oils from my friend, Dr. Mariza Snyder:
1. Lavender – Pure, high quality lavender oils contain esters that can calm your psyche.
2. Bergamot – This citrus oil has a calming and soothing aroma that is best when diffused or inhaled.
3. Ylang Ylang – This floral-scented oil is both calming and uplifting. It has also been known as an aphrodisiac (even better!).
4. Roman Chamomile – My mom loves chamomile tea, and I drink it occasionally in the evening. This oil is essentially an amped up version of the tea which evokes a calming sensation. It's also soothing for the skin.
If you haven't tried essential oils, you're missing out! Make sure to only purchase ones that are organic and certified therapeutic grade, like doTerra. Other oils (especially cheap ones you buy at the store) may be adulterated, so it's best to be very choosy with which oils you buy.
Let's reduce our stress and achieve zen together!
---
This is a photo of my wife Amy and my pup Macks as we drove him home for the first time.⁠
Macks was given away for adoption at least twice. His last owner didn't even say goodbye to him when she dropped him off at the rescue.⁠
Amy found him on https://Petfinder.com. Because of his age (eight years old), he was less likely to find a home than younger dogs. He also has some anxiety and bowel issues.⁠
We rescued Macks three years ago. He is the sweetest little guy who loves his naps and his treats.⁠
Everybody deserves someone to love them.
---
Here are the latest episodes of my podcast, The Holistic Plastic Surgery Show. Please SUBSCRIBE so you don't miss a single information-packed show!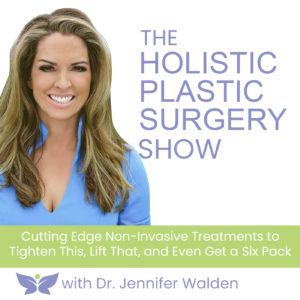 Episode #178 – Cutting Edge Non-Invasive Treatments to Tighten This, Lift That, and Even Get a Six Pack with Dr. Jennifer Walden – Non-invasive cosmetic treatments are exploding in popularity. It seems every week there is a new device that offers a more effective way to tighten this, lift that, and even give you bigger muscles. On this episode, we're going to introduce you to the newest technology in cosmetic medicine. Have you heard of Geneveve, Votiva, Emsella, Emsculpt, or the Big D Wave? No? Most plastic surgeons haven't either!
These are just some of the newest, non-invasive cosmetic treatments being offered by my guest. You'll learn how you can tighten "down under" in more ways than one, reduce stress urinary incontinence without even taking your pants off, enhance your abdominal muscles without doing a single sit-up, and even painlessly improve ED. We cover a lot of really cool plastic surgery "toys" on this episode, so it's truly a must-listen.
To learn more, listen HERE with Apple devices or HERE with Android phones.
---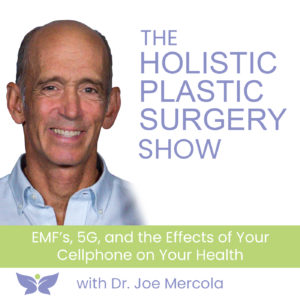 Episode #177 – EMF's, 5G, and the Effects of Your Cellphone on Your Health with Dr. Joe Mercola – Are cellphones the cigarettes of the 21st century?
My guest this week believes they are. EMF stands for Electromagnetic Frequencies, and we are being exposed to a greater amount of EMF's than ever before. So what can these exposures do to our health?
Studies show that excess amounts of EMF's can cause a myriad of symptoms, including headaches, fatigue, brain fog, and even the early onset of cancer.
My guest, Dr. Joe Mercola, has written a new book about the dangers of EMF called EMF'd. In this episode, he explains the risks of excess EMF exposures, why these risks (including those associated with 5G) are being withheld from the public, and simple steps you can take to mitigate these risks and keep you and your families healthy and safe.
Listen HERE on Apple devices or HERE on Android.
Tagged with: Adopt Don't Shop, detroit, Dr. Anthony Youn, Dr. Jennifer Walden, Dr. Joe Mercola, Dr. Mariza Snyder, Essential Oils, Essential Oils for Stress, Holistic Health, Michigan, plastic surgery, Podcast
Posted in: Plastic Surgery News