What to learn from bad celebrity plastic surgery
Posted on: Apr 30 2020
By: editor
These past six weeks have been stressful for all of us. So in this week's newsletter, I thought I'd take a break from all things Corona and focus on something fun instead: celebrities!
Celebrities and botched plastic surgeries go hand-in-hand. With that in mind, I thought I'd reveal some of the worst in celebrity plastic surgery… and what you can learn from them. Let's start!
5. Sly Stallone and Hairline Brow Lifts – This is a type of brow lift surgery where the scar is placed at the junction between the hairline and the forehead. The hair is supposed to grow in-between strands of hair, but I've never seen it look natural. This surgery can make you look like you have a cap of hair on your head. Just look at Sly Stallone's hairline in any of his recent movies. Not good. Stick with the endoscopic brow lifts instead.
4. All The Real Housewives and Too Much Facial Filler – We call it the "Pillow Face." In 2004, I was the co-author of a seminal scientific article in our plastic surgery literature, "The Volumetric Facelift." This was one of the first articles that explained how the face ages in three dimensions and helped start the phenomenon of rejuvenating the cheeks by filling them. Flash forward to 2020 where we are now seeing cheeks plumped beyond recognition. Less can be more. Most patients don't need more than a syringe or two of Voluma per cheek.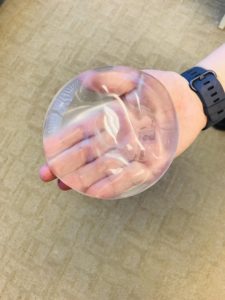 3. Pam Anderson and Massive Implants – This goes without saying. The bigger the implants, the more stretched the skin and the quicker the breasts will droop. Excessively large implants can make a person look top heavy and overweight. I strongly encourage my patients to pick the smallest size they are certain will make them happy. Size does matter!
2. Meg Ryan and Lip Implants – Lip implants never look real. They just don't. It doesn't matter whether they are made of Gore-tex, silicone, or Alloderm. They always look stiff and unnatural and never pass the Kiss Test (when you kiss someone with augmented lips and it feels like you're kissing a rubber tire). Stick with fat injections, Juvederm, or Restylane instead.
1. Michael Jackson and Too Many Nose Jobs – It was such a sad story. He was a very good looking man, but too many nose jobs whittled his nose into a scarred mess. One of my friends in Beverly Hills claims that Michael had a plastic surgeon on retainer since he was a constant figure in the OR, undergoing surgery on a regular basis. If you want a nose job, please exercise caution. Choose your plastic surgeon very carefully and avoid a revision surgery unless it's absolutely necessary. One is enough!
---
Here are the latest episodes of my podcast, The Holistic Plastic Surgery Show. Please SUBSCRIBE so you don't miss a single information-packed show!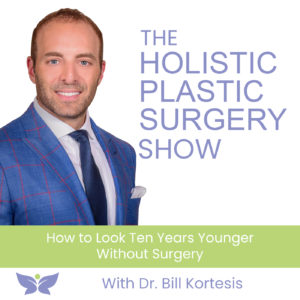 Episode #184– How to Look Ten Years Younger Without Surgery with Dr. Bill Kortesis – We would all love to look ten years younger, but just what do we need to do for this to happen?
Surprisingly, you don't have to go under the knife to turn back the clock ten years. My guest this week is a board-certified plastic surgeon whose practice has more lasers, devices, and tools than almost any other plastic surgery practice in North America. And he's going to share with us which of these treatments can help you look ten years younger, or even more.
We'll discuss such treatments as Morpheus, Fractora, Profound, Renuvion, Facetite, and many more. We'll also discuss his recommendations on the best skin care to reduce aging of the skin and when actual surgery may be your best option.
To learn more, listen HERE with Apple devices or HERE with Android phones.
---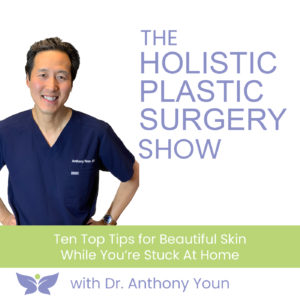 Episode #183.5– Ten Top Tips for Beautiful Skin While You're Stuck At Home with Dr. Anthony Youn – Life has turned upside down. Plastic surgeons, dermatologists, and medspas have all closed their doors. So what is a patient or client to do?
On this podcast, I give you ten simple tips to get beautiful skin while you are stuck at home. Botox wearing off? Filler dissolving away? Miss your chemical peels, IPL, or microneedling? What can you do to take the place of these treatments from the comfort of your home?
I give you the answers in this week's podcast.
Listen HERE on Apple devices or HERE on Android.
Tagged with: bad plastic surgery, botched plastic surgery, breast implants, celebrity plastic surgery, detroit, Dr. Anthony Youn, dr. youn, Michigan, plastic surgery
Posted in: Plastic Surgery News