What's In Your Sheets?
Posted on: Dec 6 2018
By: editor
I firmly believe that having a non-toxic home is a big key to long-term health and wellness. I've written to you in the past about the effects of EMF's, toxic skin care, and cleaning the air in your home. But, if you're like me, you may not put a lot of thought into the impact that our laundry products have on our homes, bodies, and environment.
After all, if there's an entire aisle at the store full of "trusted brands", they must be safe, right?
…WRONG.
DID YOU KNOW that conventional laundry products are some of the highest contributors to household toxicity?
Here's why…
Every minute of your life, (outside of showering) your skin is in constant contact with your clothing, bedding, towels and beyond…
Upwards of 90% of store-bought laundry products are scientifically engineered to leave a chemical cocktail on your fabrics.
These chemicals are now in full contact with your skin (the largest organ of your body) all the time. Many of these chemicals have been linked to hormone disruption, respiratory issues, and even cancer.
I've discovered a company that is on a mission to change the industry by offering REFILLABLE laundry jugs made with plant based, non-toxic ingredients that work better than the store-bought blue goo.
MyGreenFills is a mission-driven company out of Traverse City, Michigan that makes eco-friendly laundry products that clean better than their chemical competitors.
They not only make the best natural cleaning products in existence—they also work closely with charities, including one that helps deaf women in Jamaica—and another focused on freeing women in China from being trafficked and enslaved. So by using their products, not only are you reducing toxin exposure in your home, but you're also giving good work to women who otherwise wouldn't have it.
If you'd like to learn more about MyGreenFills, then there are two great options to check out.
1. If you'd like to try MyGreenFills for yourself, they are offering my followers 50 Loads of Laundry for only $14. Click HERE to check out their special $14 deal.
2. For the next 10 days, they are also offering a special 5 piece holiday stocking stuffer gift pack, where 100% of the proceeds go to giving life-changing jobs to women in Jamaica and China. This makes a great gift during the holiday season for yourself, a friend, or a family member! Click HEREto check that out.
---
Here are the latest episodes of my podcast, The Holistic Plastic Surgery Show. Please SUBSCRIBE so you don't miss a single information-packed show!
Episode #113– All About Facial Fillers with Dr. Roy Kim – Each year hundreds of thousands of people have their lines erased, their cheeks inflated, and their lips plumped using injectable fillers.
But with all the different fillers that are available, how can you ensure that you get a natural-looking result and not end up with a Hollywood "pillow face"?
On this episode, I'm joined by one of San Francisco's most prominent plastic surgeons. He'll reveal which fillers he uses for which wrinkles, how to avoid getting botched, and much more. If you've ever considered being treated with injectable fillers but didn't know where to start, then this is the place.
To learn more, listen HERE with Apple devices or HERE with Android phones.
---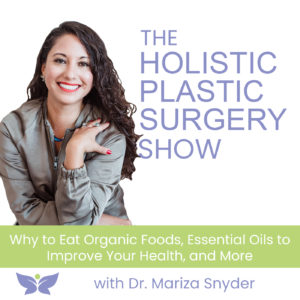 Episode #112 – Why to Eat Organic Foods, Essential Oils to Improve Your Health, and More with Dr. Mariza Snyder – A California court recently ruled in favor of a man who was diagnosed with non-Hodgkin's lymphoma that is believed to be the result of excessive exposure to Roundup, a chemical herbicide made by Monsanto that is used to spray non-organic crops. This is the first major court case to shine a light on the potential health hazards of eating conventionally grown foods.
On this episode, I'm joined by my good friend Dr. Mariza Snyder. We discuss our thoughts on the Monsanto verdict, why we try to eat organic over conventionally grown foods, and how using essential oils could make massive changes to your health, appearance, and even your weight.
I also introduce you to the newest member of my family!
Listen HERE on Apple devices or HERE on Android.
Tagged with: Dr. Mariza Snyder, Dr. Roy Kim, Eco-Friendly Products, Facial Fillers, fillers, Holistic Health, Michigan Made, Monsanto, MyGreenFills, Podcast
Posted in: Plastic Surgery News