What's Going On
Posted on: Jun 17 2021
By: editor
Times are changing!
It's great to see more and more places opening up and people getting back to a greater sense of normalcy. I'm taking a break from the usual educational blog post to send you some personal thoughts this week:
My family is planning to have our first indoor restaurant outing since the pandemic began! We're heading to The Melting Pot in Troy, Michigan, this Thursday to stuff our faces with some good fondue. And yes, I am keenly aware that fondue is not the food I normally recommend, but I also believe that we should occasionally splurge and not feel guilty about it.
As I'm nearing my fifties, I'm realizing that my body isn't moving or recovering quite like it used to. As a response to this, I've begun focusing much more on yoga. I've always known that yoga is great for the core, flexibility, and joints, but have resisted spending a lot of time doing it. Well, now appears to be the time. My wife is a Peloton addict, and their yoga classes have become a very accessible way for me to get my yoga on. I hope I stick with it!
In skin care news, I've been focused on a revamp of my skin care line, YOUN Beauty. The goal is to put a focus on more sustainable packaging and to update the design. I'm really excited to reveal it to you in the coming months!
I hope you are enjoying your summer! Please wear your sunblock (spf 30 or more, avoiding oxybenzone and octinoxate) and be sure to practice some self-care. Have a great week, my friends!
---
Here are the latest episodes of my podcast, The Holistic Plastic Surgery Show. Please SUBSCRIBE so you don't miss a single information-packed show!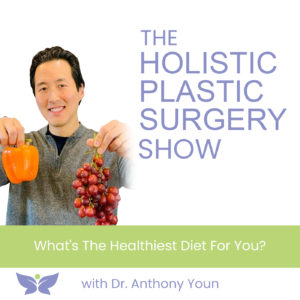 Episode #242 – What's the Healthiest Diet for You? with Dr. Anthony Youn – Keto, Paleo, Vegan, Vegetarian, Gluten-Free, Pegan, Atkins… There are so many diets and diet experts that it's very confusing to determine what is the best diet for our health.
Should you eat dairy? What about meat? Is fat good or bad for you?
On this podcast, I summarize the most common diets and give you my opinion on which ones are good, bad, and maybe somewhere in the middle. I also reveal what diet I most often choose for myself and my family.
To learn more, listen HERE with Apple devices or HERE with Android phones.
---
Episode #241 – The Hidden Causes of Low Energy and Fatigue with Dr. Tim Jackson – Do you lack the energy you used to have?
Are you more fatigued than ever before? Are you missing out on living the life you want because you're just too tired? Or maybe you're constantly drinking coffee and energy drinks to keep you functioning?
If any of these apply to you, then the causes of your low energy might not be what you think.
Although not on most traditional physicians' radar, addressing these and other hidden causes of low energy and fatigue just could be the solution to living the life you want to live.
Listen HERE on Apple devices or HERE on Android.
Tagged with: diet, Dr. Anthony Youn, dr. youn, fatigue, Holistic Health, plastic surgery, Podcast, skin care
Posted in: Plastic Surgery News