Five Anti-Aging Foods to Try Now
Posted on: Jul 10 2019
By: editor
The standard American diet is definitely not the best one for our health and our skin. The chemicals, hormones, antibiotics, and bad fats wreak havoc on collagen, which forms the building blocks of our skin and many of our internal organs. Keeping that in mind, here are some anti-aging foods to consider adding to your diet.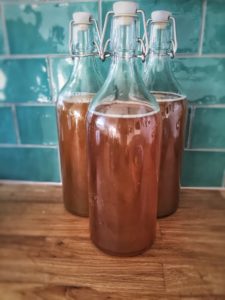 1. Kombucha – This fermented drink contains probiotics which are great for our microbiome. Its sweet taste makes it a great substitute for soda pop. I recommend drinking a small glass per day.

2. Kimchee – Have you tried this Korean side dish? It's spicy fermented cabbage, and is gaining in popularity. If you like garlic and spicy foods, then it's worth a try! The probiotics in it are awesome for your gut health.
3. Jackfruit – For those of you looking for a meat substitute, jackfruit just might be it. This massive fruit (one of the largest in the world) is filled with skin-healthy goodies, like protein, potassium, and antioxidants. It's also used in vegan pulled pork recipes. Yum!
4. Poke Bowls –Thistrendy food is spreading across the nation. They are a combination of Hawaiian and Japanese foods, and basically bowls of rice or mixed greens with your choice of cooked or raw fish (or tofu), veggies, select fruits, sauces, and crunchy toppings (like nori seaweed). It's a much healthier "fast food" option! Add some miso soup as a side dish for extra probiotics!

5. Hemp Seeds – Hemp seeds are some of the most nutritious seeds available. Filled with essential amino acids and healthy omega-3 fats, these small seeds can be easily blended into your morning smoothie to add a nice protein and fat kick. Technically you are eating hemp "hearts" since the outside shell is usually removed before you buy them. And no, eating them won't make you high!
---
I'm so excited to share with you the cover of my new book! It's called "Playing God: The Evolution of a Modern Surgeon." It's a follow-up to my first book, "In Stitches," and tells my story of becoming a plastic surgeon and establishing a successful practice. I'm so very proud of it and know you'll just love reading it.
"A riveting look at what it takes to become a premiere surgeon in today's wild west of medicine. Dr. Youn has written a moving and humorous memoir that is a must-read for medical students, doctors, and anyone interested in the fascinating world behind the clinic curtains and the operating room doors." — Dr. Drew Ordon, host of The Doctors.

The book hits stores on September 17th, but is available for pre-order now on Amazon HERE. In the upcoming weeks I'll share with you several special gifts you'll get if you pre-order! Much more coming soon!
---
Here are the latest episodes of my podcast, The Holistic Plastic Surgery Show. Please SUBSCRIBE so you don't miss a single information-packed show!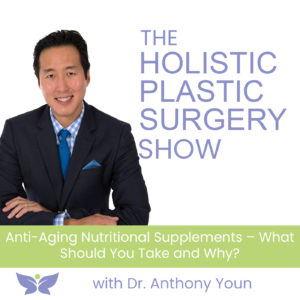 Episode #145 – Anti-Aging Nutritional Supplements – What Should You Take and Why? With Dr. Anthony Youn – Nutritional supplements are a controversial topic in medicine. Many doctors believe there is no benefit to taking supplements, and you're paying money to basically make expensive pee. Many holistic health practitioners disagree. So what does science say?
On this episode, I'm getting to the bottom of anti-aging nutritional supplements. Do they work? Will they actually help your skin to look younger? And if so, what nutritional supplements do I recommend?
I'll give you the straight scoop on which nutritional supplements you should consider taking, and where you can get them.
To learn more, listen HERE with Apple devices or HERE with Android phones.
---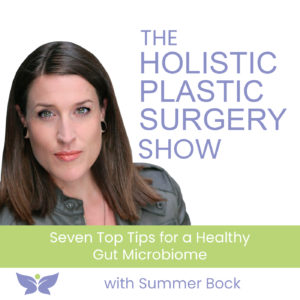 Episode #144 – Seven Top Tips for a Healthy Gut Microbiome with Summer Bock – Your microbiome is the key to your gut health… and the health of so much more. Studies are showing that the trillions of bacteria that compose our microbiomes are key players in the health of not only our GI tract, but also the appearance of our skin and even the function of our brains. But what should you do to optimize the health of your microbiome?
On this episode, I'm joined by an expert in the microbiome. She is going to give us her top seven tips for creating a healthy gut microbiome. These will include revealing which incredibly important foods have been virtually eliminated from the standard American diet, how a simple mouth spray can prime your digestive system for optimal function, why the number of different foods you eat matters, which foods feed the healthy bacteria in your gut, and a whole lot more.
Listen HERE on Apple devices or HERE on Android.
Tagged with: anti-aging, Anti-Aging Foods, detroit, Dr. Anthony Youn, dr. youn, Healthy Gut, Holistic Health, Kombucha, Microbiome, New Book, plastic surgery, Playing God Book, Podcast, Summer Bock
Posted in: Uncategorized