The Truth About Collagen Supplements
Posted on: May 16 2019
By: editor
What is the truth about collagen supplements?
This is a question I get asked to me all the time. Does eating collagen improve the collagen of your skin?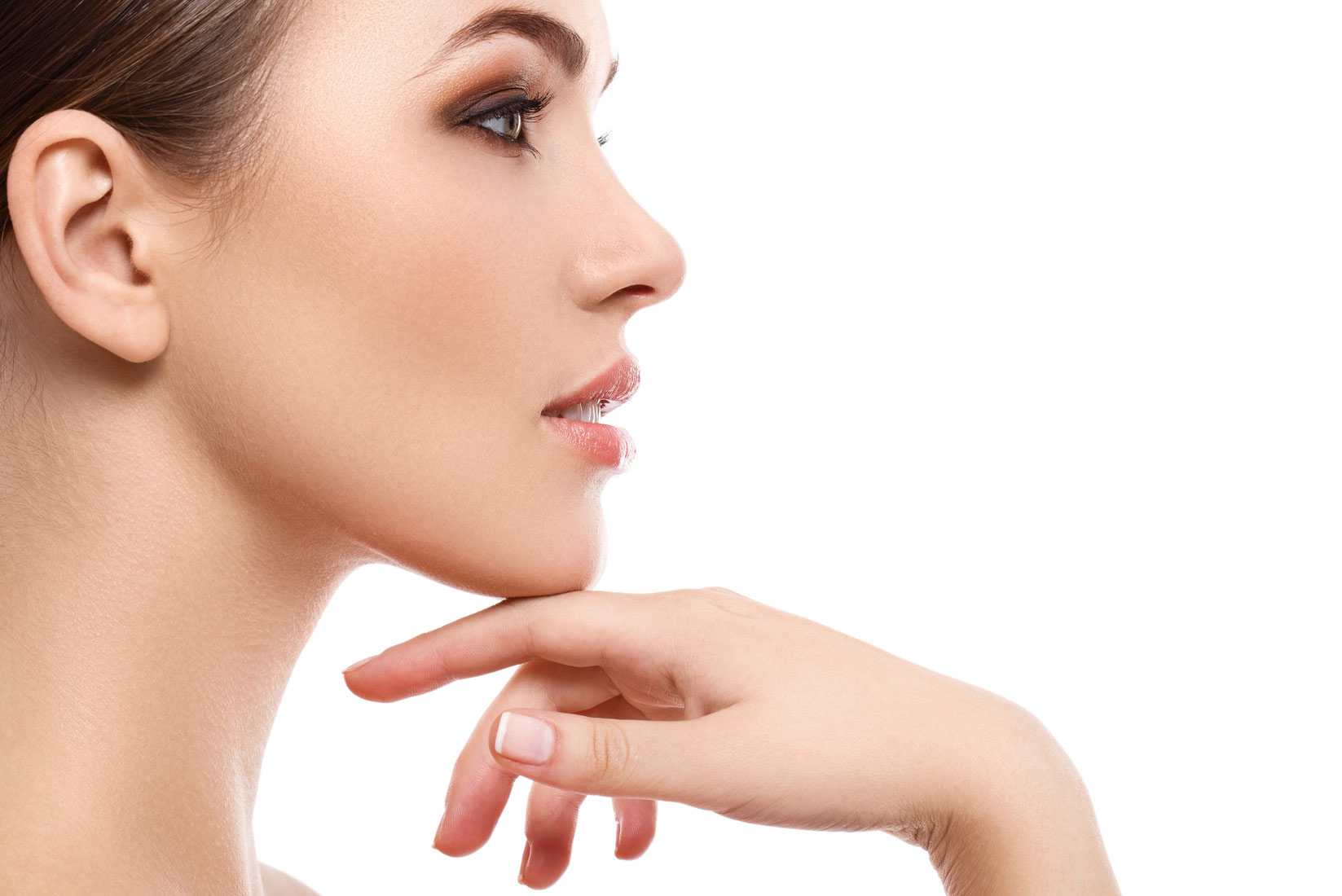 The answer is: YES.
One double-blind placebo-controlled study from Germany found that ingesting collagen increased the skin's elasticity.
Another placebo-controlled clinical trial published in the Journal of Cosmetic Dermatology found that oral supplementation with collagen improved the hydration of the skin and increased the density of the collagen in the skin.
I have heard countless reports of people seeing great improvements in their skin after drinking bone broth. Bone broth contains loads of collagen, which is one of the likely reasons why it's so good for your appearance.
So does taking a collagen supplement improve the collagen of your skin? Yes, it does.

So what collagen formulation should you look for?
Ideally you want to look for one that uses only the highest quality ingredients. The one that I look for in regards to the skin is VERISOL. Verisol is a type of supplemental collagen formulated specifically to improve the collagen of the skin (as opposed to the collagen in bone, joints, etc). One study of 100 women found a significant improvement in wrinkles and a 60% increase in the procollagen content of the skin after just 4 weeks!
Verisol can be found in certain high end collagen supplements – look for it on the label – or you can let me do the work for you!
---
Introducing YOUN Health Supplemental Collagen!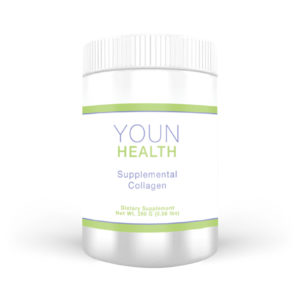 This new, highest quality collagen supplement contains a unique blend of three patented collagen peptides (VERISOL, Fortibone, and Fortigel) that have been shown to not only improve the aging of your skin, but also improve bone and joint health.
YOUN Health Supplemental Collagen can be easily mixed into smoothies, shakes, coffee, and other foods and drinks. It has no taste but packs a big anti-aging punch. I especially enjoy mixing it into my smoothies, whereas my wife likes to mix it into her hot tea every morning.
We have a limited number of units available for sale at my online store and in the office for $60. Click HERE to check it out!

Note: This product contains animal-based collagen. Do not consume if you are vegan.
---
Here are the latest episodes of my podcast, The Holistic Plastic Surgery Show. Please SUBSCRIBE so you don't miss a single information-packed show!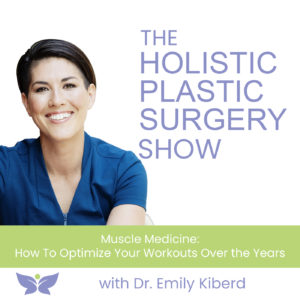 Episode #136– Muscle Medicine: How to Optimize Your Workouts Over the Years with Dr. Emily Kiberd – As we get older, how do we know that how we're exercising is optimal for our bodies? In the 80's it was all about aerobics classes. Today, more and more people are talking about short, high intensity interval workouts. But what is best for you?
In this episode, I'm joined by a doc who is revolutionizing a wellness trend called "Muscle Medicine." She's worked with some of the top athletes and celebrities and knows what works, what doesn't, and what's all hype.
We'll discuss what type of exercise you absolutely must do as you get older and which types of workouts are just spinning your wheels. It's a frank discussion with someone I really think you should get to know.
To learn more, listen HERE with Apple devices or HERE with Android phones.
---
Episode #135 – The Healthy Skin Diet with Jennifer Fugo– The health of our bodies shows on our skin. Rashes, eczema, and even wrinkles can all be caused by health issues going on elsewhere, especially our gut. This gut-skin axis is one of the hottest topics in holistic skin health today.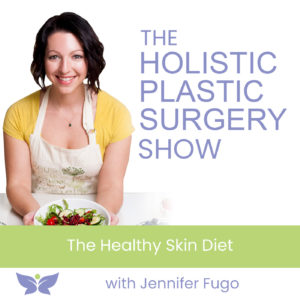 So what diet is best for improving the health of your skin? Should you eat gluten-free? What about dairy? How much protein should you eat each day? And what does stress have to do with all this?
On this episode, I'm joined by a nutritionist who is an expert in the gut-skin connection. She's going to give you the tools to determine what could be the underlying root cause of your skin issues. We'll cover which foods to eat and which to avoid, what simple lifestyle changes can reap huge rewards in your skin, and even a simple DIY test to determine if you are making enough stomach acids to digest your food properly. It's an information-packed show.
Listen HERE on Apple devices or HERE on Android.
Tagged with: collagen, Collagen Supplements, detroit, Dr. Anthony Youn, Dr. Emily Kiberd, Dr. Jennifer Fugo, dr. youn, Holistic Health, Michigan, plastic surgery, Podcast, skin care, YOUN Health
Posted in: Plastic Surgery News