The Best Natural DIY Skincare Hacks!
Posted on: Oct 21 2021
By: editor
DIY skin care? You bet! There are quite a few simple ways to take care of your skin using the ingredients you likely already have at home in your pantry or fridge. Here are a handful of some that are included in my book The Age Fix!
Alpha-Hydroxy Acid Facemask
3 Tbsp orange juice
3 Tbsp apple juice
3/4 cup plain, unsweetened yogurt
Mix the ingredients together until combined. Apply to the face, avoiding the eye area, and let it sit for 20 minutes or until dry. Rinse off with warm water. Save excess in air-tight container and refrigerate.
Sweet Potato Vitamin A Facemask
1 sweet potato
4-5 Tbsp plain, full-fat yogurt
Boil the sweet potato for 30 minutes, or microwave it for 10 minutes. After it cools, remove the skin and mash the potato with the yogurt. Apply the mixture to the face and let it sit for 15 minutes. Rinse off with warm water. Save excess in air-tight container and refrigerate.
Coffee Skin Tightening Scrub
3 Tbsp fresh or used caffeinated coffee grounds
2 Tbsp olive oil
Mix the ingredients to make a thick paste. Gently massage the paste into the skin for a couple of minutes, then let the mixture sit on your skin for five minutes. Gently rinse with warm water.
Pineapple Scrub
1/2 cup of cubed or chopped pineapple
1/4 cup warm water
3 Tbsp corn meal
Puree the pineapple with the water, then add the cornmeal until fully combined. Gently apply the scrub onto the face and lightly massage for a couple of minutes, making sure to avoid the eye area. Rinse with warm water. Save excess in air-tight container and refrigerate.
Apricot Vitamin-A Face Mask
1/2 cup dried apricots
1/2 cup warm water
1 Tbsp raw honey
Blend all of the ingredients together until the mixture is smooth. Spread the mixture on your face and let it sit for 20 minutes. Rinse with warm water. Discard any excess.
Try these out at home and and enjoy natural skin care!
---
Here are the latest episodes of my podcast, The Holistic Plastic Surgery Show. Please SUBSCRIBE so you don't miss a single information-packed show!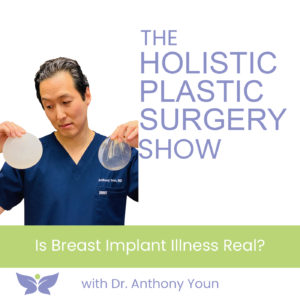 Episode #260 – Is Breast Implant Illness (BII) Real? with Dr. Anthony Youn – One of the hottest topics in plastic surgery today is breast implant illness, otherwise known as BII. Some people believe it's real, others think it's not, and still others think it's a reason that no one should get implants.
So what is the truth, and what do the latest scientific studies show?
On this week's podcast I discuss what Breast Implant Illness is, how it presents, and how should you get it treated if you think you have it. I update you on the latest studies and beliefs about BII.
To learn more, listen HERE with Apple devices or HERE with Android phones.
---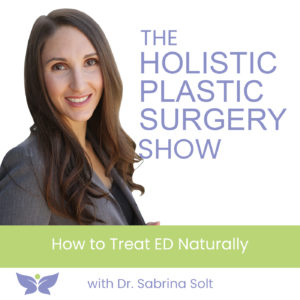 Episode #259 – How to Treat ED Naturally with Dr. Sabrina Solt – Impotence is a problem for approximately 30 million men in the United States. But did you realize that ED medications are only treating the symptoms of ED and not getting at the root cause of why you have it?
On this podcast I'm joined by a naturopathic doctor who specializes in men's health, specifically the natural treatment of ED. She reveals to us her five-pronged approach to treating ED using changes in diet and lifestyle. And yes, it really works.
We also discuss non-invasive and minimally invasive options for treating ED, such as shockwave therapy and injections of PRP. If you or someone you love is dealing with impotence, then this is definitely the podcast episode for you.
Listen HERE on Apple devices or HERE on Android.
Tagged with: BII, Breast Implant Illness, Clean Skin, detroit, Dr. Anthony Youn, Dr. Sabrina Solt, dr. youn, Healthy Skin, Holistic Health, Michigan, plastic surgery, Podcast, skin care, Skincare
Posted in: Plastic Surgery News