Simple Changes I've Made To Uplevel My Health and Appearance
Posted on: Aug 8 2018
By: editor
Sometimes it's the small things we do that create big results.
Over the past year or so I've done the following things to improve my health and appearance. If I can do it, so can you!
Diet:
– I all but stopped drinking soda pop. Filled with chemicals, calories, and GMO high fructose corn syrup, these drinks are shown to cause weight gain, increase your risk of diabetes, and result in inflammation. One study revealed that drinking one soda pop a day shortens the telomeres of your chromosomes, causing your body to age more quickly.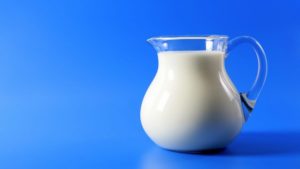 – We stopped buying milk. Although conventional medicine (and fancy ads) claim that milk does a body good, it doesn't. It's the perfect food… if you're a growing calf. Instead, go for nut milks like almond milk. They may take a little while to get used to, but they are so much better for you.
Skin:
– I apply both peptides and retinol to my skin every night. This is the one-two punch that provides the maximum in anti-aging potency. I highly recommend YOUN Beauty Ultra Night Lift(packed with peptides) and Retinol Moisturizer (with 2.5% retinol and natural and organic ingredients).
– I set aside time for self-care. At YPS we have a plethora of anti-aging treatments, from microdermabrasion to chemical peels to laser treatments. My staff now has a standing appointment for me to get my skin pampered once a month.
Other:
– I underwent a coronary artery calcium score CT scan. This is a five minute test that can determine the state of hard plaque in your coronary vessels. It's a very useful way to see whether you may be at risk for a future heart attack. I'm happy to report my score was zero, which is the best score attainable. Ask your physician about this test if you are in your 40s or older and are concerned that heart disease may be an issue for you. It costs anywhere between $100-$200.
These are just a few of the changes I've made. I give a lot more on my latest podcast, including what nutritional supplements I've begun taking, how I've changed my workout routine to maximize results, which skin care products I've thrown out, and even what changes I've made to social media that have made my life much happier. You can download this episode by clicking HERE for Apple devices and HERE for Android.
---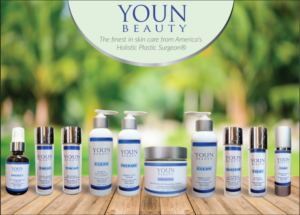 The BIGGEST Discount Yet on YOUN Beauty!

Have you tried my new skin care line, YOUN Beauty? If not, this is perfect time to check it out! For one week only, we are offering 25% off all YOUN Beauty Products! Purchase them in the office or online between now and August 15th to get this amazing discounted price! Just enter the coupon code: 25off at checkout to receive your special price!
And remember, shipping is always FREE for orders over $99, and all products have a 30-day money back guarantee.
Please visit the store online at www.dryounonline.com or stop by the office in Troy, Michigan to pick up your YOUN Beauty products today!
Note: Discounted price does not apply to the already discounted multiple product systems. Offer expires Aug. 15, 2018.
---
Here are the latest episodes of my new podcast, The Holistic Plastic Surgery Show. Please SUBSCRIBE so you don't miss a single information-packed show!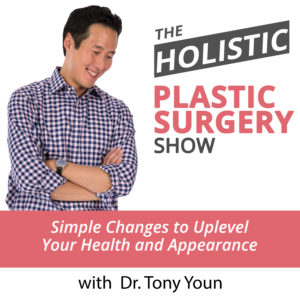 Episode #97 – Simple Changes to Uplevel Your Health and Appearance with Dr. Tony Youn– Life isn't usually about making big changes. Typically it's the small tweaks you make to your life which combined create major transformations.
On this episode, I reveal the many simple changes I've made in my life over the past several years. A few of these are big modifications with big results, but most are simple tweaks which combined create big differences. I talk about dietary changes that can uplevel your health, adjustments to what you apply to your skin, and much more.
These are my simple ways to slow down the aging process and make your life last longer. If I can do it, so can you.
Listen HERE with Apple devices or HERE with Android phones.
---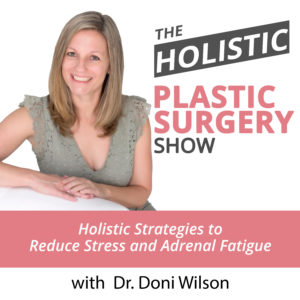 Episode #96 – Holistic Strategies to Reduce Stress and Adrenal Fatigue with Dr. Doni Wilson – Stress. We all have it. While a little stress may be good for you, the stress that so many of us experience each day can tax our adrenal glands, prematurely age our skin, and even contribute to an early death.
On this episode, I'm joined by a naturopathic physician and expert in dealing with stress from a natural perspective. We'll discuss one major type of stress that you may not have realized you have, how stress can wreak havoc on your cortisol levels, and why adrenal fatigue isn't diagnosed by most conventional physicians but is a real issue for so many of us. And she'll give many simple, practical tips on how you can manage your stress and get your life back on track.
Listen HERE on Apple devices or HERE on Android.
Tagged with: detroit, diet, Dr. Anthony Youn, Dr. Doni Wilson, dr. youn, health, Holistic, Holistic Skin Care, Michigan, plastic surgery, Podcast, skin care, Youn Beauty
Posted in: Plastic Surgery News